Christmas season is upon us and if you are wracking your mind on what to purchase for the women in your world I have some ideas for you! In a year of #metoo's and Trump, I figured it couldn't hurt to give a little lady-themed joy to brighten the sparkle of the women (and equality-campaigning men!) in your life. So this year the Sublime Finds gift guide is 25 entirely girl-power-themed pressies! I hope it may inspire the feminist in you!
1. SHE: Muses, Visionaries and Madcap Heroines by kate spade new york
There's so much to love about this exquisite coffee-table book by kate spade new york. Perfectly styled, packed with women equal parts inspiring and fashionable, SHE: muses, visionaries and madcap heroines celebrates the women whose bold personalities and styles play an important role in the lives of women today. With rich photography, spirited quotes and profiles, amusing anecdotes, words of wisdom, personal essays, and signature kate spade new york "she" statements, every page of SHE is a feast to devour. One of my absolute favourite gifts of the season.
2. Feminist with a To-Do List tote
For the woman going places and getting shizzle done!
3. Female Fortitude Socks
Emblazened with 'I'm a girl, what's your superpower?' these eye catching socks celebrate what it is to be a girl.
4. Leaders in Heels Phenomenal Woman Planner
The Leaders In Heels Phenomenal Woman planner is on my Christmas Wishlist this year and this is why: it's beautiful (comes in three finishes), mongrammable, packed full of pages promoting planning and intention setting plus structured prompts to make 2018 a super meaningful year!
5. We Can Do It! Cross Stitch Kit
Know a craft-loving feminist? Treat her to a little girl power cross stitch. This is one of MANY different designs and styles, varying in complexity (and profanity) available on Etsy.
6. I'm a Grown-Ass Lady and I Do What I Want mug
For the lady in your life who likes to let her coffee mug do the talking!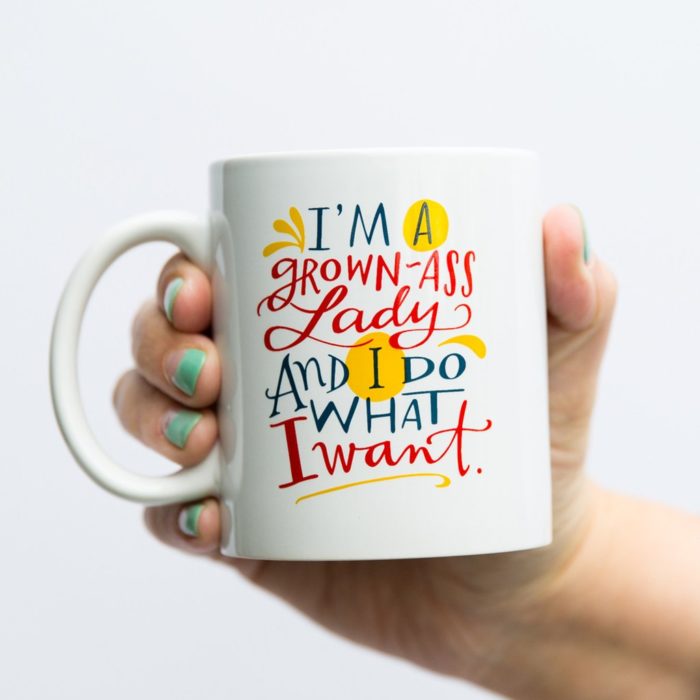 Grown-Ass Lady Mug via Emily McDowell, $18 USD
7. Misogynist Tears Flask
For the vocal feminist in your life with a wicked sense of humour and tough skin to boot, you can't go past the misogynist tears flast from WildFang. <insert giggles here!>
8. Rules of the Game: Women in The Masculine Industries by Teagan Dowler
An essential read for any women interested in or currently working in the masculine industries of engineering, construction and mining in Australia. Following her own experience and interviews with more than 50 women and Teagan Dowler reveals the realities of life for women working in masculine industries. The good, the bad and everything in between, Teagan's writing style has you turning pages. Rounded out with a dose of excellent suggestions for women finding their way, this book is a comforting friend for any woman finding herself among the minority, or wanting a better picture of what life is like. A great gift for the enlightened bloke in your life too!
9. Wild Feminist Snapback
What's a snapback? I have no idea, but I sure do love this one from Wild Feminist. Plain black up top and adorned with Feminist under the brim, this is becoming a bit of a cult item popping up on well known peoples around the traps.
10. Nevertheless, she persisted tee
From the smart and gorgeous dames at Champagne Cartel, the Nevertheless, she persisted tee is the reminder we all need at some point. And yes, the text is pink glitter. One of my faves!
11. GRL PWR notebook by Words with Heart
Not only are these gorgeous notebooks from Words with Heart adorned with inspiring messages for the gal in your life, each one funds a day of school for a girl in Cambodia. This gift gives twice!
12. Well Behaved Women Rarely Make History bangle
A beautiful piece of jewellery and a subtle reminder to paint the town red in this fabulous bangle from Be Bangles. It's one of a whole range adorned with inspiring messages for women.
13. The Wife Drought by Annabel Crabb
'I need a wife' may be a common joke among women juggling work and family. But it's not actually a joke. Having a spouse who takes care of things at home is a Godsend on the domestic front. It's a potent economic asset on the work front. And it's an advantage enjoyed – even in our modern society – by vastly more men than women. In The Wife Drought Annabel Crabb dissects the domestic and workplace inequities that serve men and the status quo. Rich with research but as witty as ever – a must read for every Aussie feminist.
14. Misogyny Speech Tea Towel
If Julia Gillard's famous parliamentary misogyny speech had you fist pumping in the air, capture this little piece of history with it in full on a tea towel. If the irony of the tea towel is a litte too much, you'll also find a poster in the Emily's List shop.
15. Smash the Patriarchy Black Sparkle Pen Set
Personally, if I'm going to be reminded of my patriarchy smashing responsibilities, I'd quite like it to be via a set of sparkle pens. I also think these could make for quite interesting 'could I borrow a pen' scenarios!
16. Feminist Prints
Let the inspiring women of history adorne your walls with these minimalist, bright and bold prints from PoppermostPrints on Etsy. Also available in singles or sets of 4!
17. Goodnight Stories for Rebel Girls
I loved this book SO much I bought seven copies when it was released earlier this year and gifted them to the girls in my life. Goodnight Stories for Rebel Girls is the brain child of Elena Favilli and Francesca Cavallo who started what went on to become the most successful book go-fund-me in history, raising over $600,000 against their $40,000 target to write a storybook telling the tales of incredible women throughout history. Packed with gorgeous illustrations and inspiring stories, it's a book girls of all ages (yes, including your age!) should know the contents of.
18. Women of NASA Lego kit
The perfect gift for the lego-enthusiast or aspiring astronaut in your life (male or female)! Making both a great lego experience and a fantastic bit of history, this set is a fabulous gift fo ages 10+.
19. Hidden Figures
The perfect accompaniment to the lego set, the Hidden Figures movie tells the story of three brilliant African-American women at NASA — Katherine Johnson (Taraji P. Henson), Dorothy Vaughan (Octavia Spencer) and Mary Jackson (Janelle Monáe). Moving, inspiring, and memorable – hold the mascara.
20. The Future is Female Kids Tee or Onesie
Raising a feminist? There's a onesie or tee for them! From 3-6months up to kids size 12.
21. The Good Girl Stripped Bare, by Tracey Spicer
Lucky for us, there's no shortage of excellent feminist memoirs to devour, but if I'm going to recommend only one, it has to be Tracey Spicer's The Good Girl Stripped Bare. For several reasons: Tracey is equal parts intimidatingly clever and down-to-earth hilarious. Her memoir is honest and as objectively told as one could possibly expect when reading an autobiography. But most significantly, I'd go as far as to suggest it paints the tale of a generation of women, pushed to the limit of what they're willing to endure as a result 2of their gender. This is the background story to the history playing out in our media now in the post-Weinstein world, why Tracey Spicer was the one to ask women with stories of sexual harassment to contact her and why she is at the centre of the investigative journalism into claims against 65 men, the first of which was Don Burke. And that is also the final reason that you should buy Tracey's book – because she is undertaking incredibly difficult work that will benefit all of us as women and it's the least we can do in return. As I said to Tracey when I met her at a signing earlier this year and I say again now: thank you for everything you are doing.
22. The Girl Power: You Are Enough Manifesto
Emily McDowell has beautifully created this print of Jen Pastiloff's Girl Power manifesto.
23. Men's Feminist Tee
If there's a man in your life who takes his equality as seriously as you do, he might love wearing his feminism loud and proud too!
Save

Save

24. Girl Gang Enamel Pin

A little pin to tie your squad together!
25. Feminist Unicorn Cushion
For the friend who has everything – because do you really have everything if you don't have a feminist unicorn cushion!? :p
There you have it friends! 25 girl-power gifts. If you're looking for more I thoroughly recommend popping across to femeconomy.com to purchase from a business at least 50% owned or 30% managed by women.
Yours in festive girl-powered goodness! 
SaveSaveSaveSave
SaveSave
Do you give girl-powered gifts? Spied a good one, not on this list? Let us know in the comments!
SaveSaveSaveSaveSaveSaveSaveSaveSaveSaveSaveSaveSaveSaveSaveSaveSaveSaveSaveSaveSaveSaveSaveSaveSaveSaveSaveSaveSaveSave
SaveSave
SaveSave