In celebration of International Women's Day, I have compiled the best moments for women in the last year. This is the third year I have written this post, I collate it all year long and it is an absolute joy (albeit marathon!) to author. Some of the best moments are women that have propelled us forward, as much as we'd rather already be at the destination. Some are joyous. Some are historic. Some are fist-pump worthy. All are rich with courage and determination. Without further ado, this is them: the 25 best moments for women in the last year.
Firsts!
1. Susan Kiefel was named as the first female Chief Justice of Australia
While the appointment was not unexpected (Kiefel was the longest serving Justice on the High Court and the shortest odds to get the gig) she was the first female to hold the title. The appointment also meant that women have now have been in roles at the peak of each of the branches of government: chief justice of Australia (Susan Kiefel), commonwealth attorney-general (Nicola Roxon), governor general (Quentin Bryce) and prime minister (Julia Gillard).  #breakingtheglassceiling
2. Hillary Clinton was the first female presidential nominee for the USA
In a story of epic highs and lows, Hillary Rodham Clinton became the first female presidential nominee in the USA. The sting of the most qualified candidate in history being beaten by an unqualified, misogenist who has been repeatedly accursed of sexual harassment and assault felt very real for many women in the US and around the world. Despite the result, Hillary's accomplishment will no doubt help pave the way for others to follow. And this, in her concession speech: "To all the little girls who are watching this, never doubt that you are valuable and powerful and deserving of every chance and opportunity in the world to pursue and achieve your own dreams."
3. Maminydjama Maymuru became the first Indigenous model to represent the Northern Territory in the Miss World Australia competition.
When Maminydjama Maymuru was spotted by the NT Fashion Week director in 2014, she knocked him back so she could focus on finishing year 12. "Back home education is actually a big deal. Elders and women have done big things to get a bilingual education." She debuted as a model in 2015 in the Northern Territory fashion week before being chosen to participate in the Miss World Australia competition and made it to the top 10 in the country, her story making headlines around the world. "This has opened my heart" said Maminydjama. #moreofthisplease
4. Dior appoints Maria Grazia Chiuri as its first female Creative Director
Maria Grazia Chiuri took the reigns as Dior's first female boss making her arguably the most powerful woman in Parisian fashion since Coco Chanel. She used her first collection to make her message loud and clear, sending a model down the runway in a tee with a powerful feminist message:
Badass biatches
5. Jill Soloway uses Emmy's speech to talk diversity and LGBTIQ rights
The Transparent creator won the Emmy for best director of a comedy series. After a rousing speech about inclusion, she thrust her Emmy into the air and yelled 'TOPPLE THE PATRIARCHY!' #preach!
6. The Hot Dog Princess
It was princesses week at her dance class, and Ainsley Turner chose to go dressed as a hot dog. Internet hails her it's new queen. In a world of princesses, may we all find the courage to be a hot dog.
7. Ghostbusters gets an all-female remake
There was certainly backlash (including the much-scoffed-over "you have ruined my childhood") but the 80's classic, Ghostbusters was remade with a kick-ass cast of funny ladies. And the world didn't implode! Instead we lol'd.
8. Camilla, Duchess of Cornwall was guarded by an all-female protection team in UAE
On a trip to the United Arab Emirates, Camilla, Duchess of Cornwall, hired 5 women from the President's guard for her security detail. During the trip, designed to promote religious tolerance and women in leadership, this photo shone out around the world, making a powerful point. Camilla said the women in her security team were remarkable, and that one had climbed Everest in 16 days!
To Parity… and beyond!
9. Swedish government boards achieve gender parity
In 1988, Swedish Prime Minister Ingvar Carlsson set a goal for the country to achieve gender parity on government boards in 10 years. It ended up taking 28, but they got there! In fact the current balance is actually in favour of the women at 51:49!
10. Robin Wright and Emmy Rossum demanded equal pay, and got it.
In May, Robin Wright revealed the negotiation she'd undertaken at Netflix in order to be paid the same as  Kevin Spacey for their roles as Frank and Claire Underwood in House of Cards. She threw down the gauntlet, vowing to go public if they didn't deliver, but they did.
Emmy Rossum followed in her footsteps for her role opposite William H. Macy in Shameless, refusing to sign her contract until they provided remuneration equal to that of her co-star. Better yet was Macy's response when asked about his Rossum's move. He said "They wrote the Equal Rights Amendment in 1927; it didn't get passed . . . until 1972. It still hasn't been approved by all the states. . . It's about fucking time, don't you think?"
11. Apple gives us more inclusive emoticons
Apple used the launch of iOS10 last year to challenge the stereotypes and norms living in our emoji. In the release, we received a glorious array of more racially and gender diverse identities and new family symbols. #WeCan'tBeWhatWeCan'tSee
12. Travel with Jane discounted insurance for women to allow for the gender pay gap
Aussie travel insurance startup Travel with Jane, launched with a bang last month by offering a pay gap discount of 16.2% to women in Australia. The percentage, representing the current gender pay gap, they aim to assist financially and raise awareness and encourage corporate social responsibility here and overseas. Check them out here.
13. Femeconomy launched giving consumers power to influence representation of women in leadership
Continuing the theme of exceptional start-ups, Jade Collins and Alanna Bastin-Byrne founded Femeconomy, putting the power to influence the representation of women in leadership in the hands of the consumer. By identifying businesses with at least 30% women on their board of 50% female ownership, Femeconomy has provided us with the opportunity to use our consumer power to support businesses that support women and send a powerful message to those who don't. Going from strength to strength, I can't wait to see what this duo have in store for 2017. Read more about Femeconomy here.
14. BHP announce their 'aspirational target' of having a 50:50 workforce by 2025
In a bold and virtually unprecedented move, mining giant BHP Billiton announced their intention for their workforce to be 50% female by 2025. A momentus task in the heavily male-dominated industry that is mining in Australia, BHP were commended for their courage and will be watched eagerly on their action as they try to shift the dial from their current female representation of 17%.
Expanding our ideas on beauty
15. Curvy Kate launch their 'fiercely diverse campaign' #TheNewSexy
In a year that saw more and more businesses embrace a diverse range of models, lingerie company Curvy Kate took the trophy. Launching their 'fiercely diverse campaign' whose model's included an alopcecia sufferer, a transgender woman, an amputee, and a recovered anorexic. Said their spokesperson, "We know our customers don't all look the same so why should our models?"
16. Taryn Brumfitt released the documentary 'Embrace'
If you haven't found a moment to see documentary 'Embrace' treat yourself as soon as possible (it's on iTunes). Taryn Brumfitt made headlines when she shared a before and after picture on facebook, reversing the traditional notions of what an ideal 'after photo' looks like. The response that followed set her on a path around the world to examine how and why women are so tough on themselves when it comes to appearance and to inspire everyBODY. (See what she did there?) I cried. It's an incredible piece of cinema and contribution to the discussion on women and appearance.
STEM progress
17. The largest ever all-female Antarctic expedition took place
77 women with scientific backgrounds headed south to the Antarctic seas to carry out important scientific work. The expedition took place as part of the program 'Homeward Bound' which hopes to reach 1,000 women in the next decade to bring about important social and political change, especially for the rights of women and the planet.
18. Dartmouth College has more female than male engineering grads
In an achievement they declared to be first in the USA, Dartmouth had more female than male engineering grads in their 2016 class! Against a national average of less than 20%, it's a huge achievement that suggest we may finally be approaching the tipping point in male dominance in engineering!
Sporting feels
19. The Women's AFL launches and is a roaring success!
The eight-team AFL league for women launched in 2017 to a capacity crowd of 24,000 who had to turn people away at the stadium gates, such was it's popularity. This came after an exhibition match notched up a peak TV audience of 1.05 million, making it the second highest TV audience for female sport after the 2016 Australian Open women's final. Next stop: pay.
20. Fu Yuanhui was super real about her period pain at the olympics
Breaking her silence on a major taboo in women's sport: Fu Yuanhui surprised everyone after competing in the 4 x 100m relay for China. A reporter noticed Fu appeared to be in pain and commented as such. Fu responded "My period came last night so I'm still a bit week andreally tired right now. But this isn't an excuse, I still did not swim as well as I should have." The internet hailed her raw honesty, especially in light of her country's cultural norms which tend to talk about menstruation in euphemisms rather than openly. We feel you, Fu.
21. A fifth grade basketball team unanimously voted to forfeit the season when officials told them girls weren't allowed in finals.
In New Jersey, a team of 5th grade basketballers played ten games in their season before reaching finals and being told by officials that co-ed teams were not allowed in the league and they'd have to drop their female teammates if they were to continue into playoffs. Their coach asked the team if they wanted to stick together as a team and forfeit or ditch the girls and continue on. The team unanimously raised their hands in a vote to forfeit.
Women raised their voices
22. An anonymous Stanford university student makes a powerful statement in court to the man who sexually assaulted her
"You don't know me, but you've been inside me, and that's why we're here today". The statement given by anonymous Stanford University student to her attacker, Brock Turner who received a disturbingly light sentence on account of the "severe impact" a longer sentence would have on him (what the actual fuck) was hardly a high moment for women world wide. But it's viral spread following gave voice to so many sexual assault victims and survivors. Impossible to be unmoved by the powerful statement, it forced many to examine sexual assault through a different lens and sparked an international conversation on sexual assault. Such respect for the courage this woman has.
23. Jennifer Aniston wrote a scathing open letter about the portrayal of women
Undoubtedly one of the most popular modern day targets for tabloids, Jennifer Aniston got 'fed up' about the constant rumours she is pregnant and penned an open letter condemning the media for it's portrayal of women stating 'the objectification and scrutiny we put women through is absurd and disturbing'. Expressing her frustration highlighting the ridiculousness of celebrity reporting, she goes on to say 'we are complete with or without a mate, with or without a child. We get to decide for ourselves what is beautiful when it comes to our bodies'.
24. New feminist motto was born in "Nevertheless, she persisted."
After Senator Elizabeth Warren was silenced in the US Senate, Senate majority leader, Mitch McConnell attempted to describe her silencing by stating,  "She was warned. She was given an explanation. Nevertheless, she persisted." The final phrase became a battlecry for the struggles faced by women and the determination to go forward.
25. Five million women marched for women's rights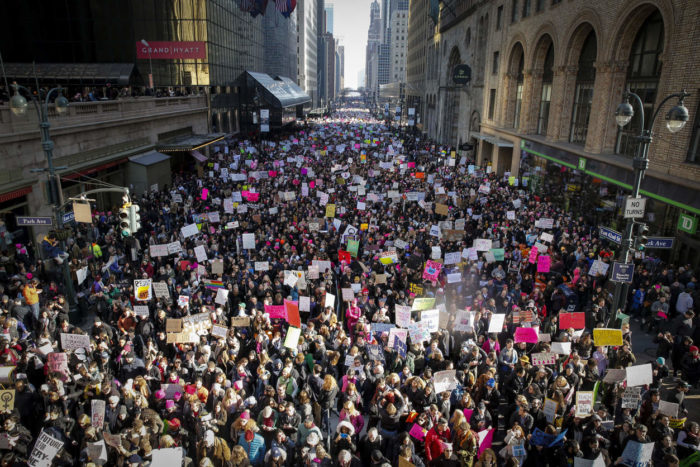 In what was undoubtedly the most incredible and historic day for women this year, on January 21, 2017, on every continent around the world, women banded together to march for women's rights. Scheduled to follow Trump's inauguration in the United States, what was originally planned as a protest in Washington grew into an impassioned remedy for a what had been a horrifying symbol for women's progress. While the personal motivation for protesting of course varied, the message was loud and clear: we are in this together.
– – –
In a year which at times felt enormously challenging, it was speckled with moments of hope, and promise and progress. This International Women's Day I encourage you take stock of the wins in your world, share love with the women that matter to you most and take a moment to consider what bold action is possible for you as we go forward together for a more equal world.
What were your favourite moments for women this year? What stirred your heart most? What is your hope for the future? Share your thoughts in the comments below.