I am an extremely fussy shopper. I have very particular taste in clothing and while I have learnt to embrace my curves, I find there's plenty of stuff that doesn't suit or simply doesn't fit. I do love shopping, but I've had more than my fair share of exasperated trips to Westfield that yield no returns. I know I am not alone with this struggle!
I find workwear the most challenging. What we wear has a big impact on how we feel… and of course how we feel links directly with how confident, happy and productive we are. So I wasn't surprised to find a correlation between my outfit vibes and how successful I am at work on a day to day basis. As a career-motivated gal with big dreams and ambition to match, there is no room in my schedule for feeling or delivering 'meh'.
My workwear criteria is extensive. A sublime find for work must be:
comfortable,
flattering/curve friendly,
professional,
versatile,
easy to care for (my credit card weeps over my dry cleaning bills),
quality fabric,
classic shape and colour
but still stylish
and feminine
with an appropriate amount of fun!
I have my go-to brands and despite the desire for variety, I have rarely strayed far from what I know and trust. So when my friend and colleague, MB, introduced me to the gorgeous frocks of Leina Broughton, there were exclamations of 'where has this brand been all my life!?'. I have become a fast and devoted fan of LB's classic and versatile cuts, always sprinkled with the right amount of personality. Frocktober seemed the perfect time to share the frocks I'm loving most and with the knowledge that many of you are as particular as me when it comes to finding garments that are just right, it was time to pay forward the gift of Leina Broughton!
LB stocks sizes 8-18, the majority of garments are easy-care machine wash, no iron!  I get a bit funny buying online without trying on, but all the dresses I've bought have stretch in the fabric and super kind lines so have fit like a glove (each dress I'm wearing in this post is a size 14). My favourite frock and one of LB's hallmark styles is Stella, which is reversible (my absolute favourite thing for getting great milage out of a dress!) and currently available in 6 finishes.
LB is based in Queensland on the Gold Coast, all garments are designed and manufactured in Australia (such a rarity!) plus the brand is Femeconomy endorsed. Given the rather apparent love affair I'm having with Leina Broughton the brand, I reached out to Leina Broughton the designer to ask her more about the story behind her namesake business!
Q: LB, thanks so much for taking some time out to share a bit of the story behind the fabulous designs that are Leina Broughton! Tell us, how did it all begin? 

A: The concept of creating a collection for the modern corporate woman stemmed right back to my days in Sydney where many of my friends were searching for this style and were caught somewhere between conservative suits and inappropriate dress options. It kick started a very natural design direction for me.

I moved from Sydney to Melbourne to work with Country Road on their startup team for Trenery and the desire to create my brand just grew stronger and stronger. After just one year I left Melbourne and moved to Gold Coast (2010) to start the label. A few years after starting the label I met Fleur and within 6 months we went into complete partnership. Fleur as Managing Director and me as Creative Director. When we met it was like an instant understanding that we could make a dynamo team and brand. Three years on and everything about our business is in flow, very exciting and unbelievably rewarding times.
Q: The things I love most about your frocks are a) how flattering they are for curves, b) how easy they are to care for (machine wash, no iron is a godsend!) and c) how perfect they are for twirling! What's front of mind for you when you're designing? Is it the twirl factor? 

A: Thank you!! That really is music to our ears… First and foremost with design it is always about how a garment makes you feel. As women we have so many strange and complex insecurities going on, yet somehow when we put on something that feels like it was custom made for you, those emotions shift and we really shine. The amount of women who give us the feedback about how they receive so many compliments in our designs and I know that this is because it has shifted how they feel and that is something that just glows!
Putting that back into a design process, we look at what may be going on at the time of year, what events customers may be going to or just day to day schedules and how they want to feel. We are currently working on a December capsule collection and it is about creating options for work parties, Xmas parties and also just getting through work until the end of the year. There is an emotion of excitement, fun, celebration and we want to wear designs that are striking yet comfortable and can be styled easily for each occasion.
Q: An element that sets LB apart is being Australian designed and made. We hear lots about how much cheaper it is to manufacture clothing overseas, how important has it been to you to keep your operations in Aus?

A: One of the main reasons I chose Gold Coast initially (other than the incredible lifestyle!!) was that it has a strong manufacturing base. There is so much talk about overseas options that people forget to look in their own area and to also nurture the industry we have.

We develop all of our designs in-house to ensure that every garment is kept to the highest quality in finish and fit every time. Every design is carefully considered and created. Having our manufacturers literally around the corner means that we can thrive with our model of doing very limited runs of designs and getting our product to market quickly so we can ensure that designs are season appropriate. We also believe in keeping our local industry alive and feel very proud to be a part of that movement.
Q: I have no doubt your journey as entrepreneurs has had some ups and downs along the way! What's been the most rewarding part of running Leina Broughton? 

A: Our team. We go beyond brand with how we operate and believe that what we have created is something very special. We support each other, we grow together, we connect with our amazing customers and are able to share all this through design.

Q: What's next for LB?
A: Onwards and upwards! We have always offered a few evening options but next year we are expanding in this area so that it is part of our core offering and we are also releasing a small bridal capsule collection. The response to this has been really amazing and we can't wait to share this in February 2017.
I can't wait either! For those of you (like me…) who want to get in on the action now, team LB have also very kindly made an offer available especially for Sublime Finds readers: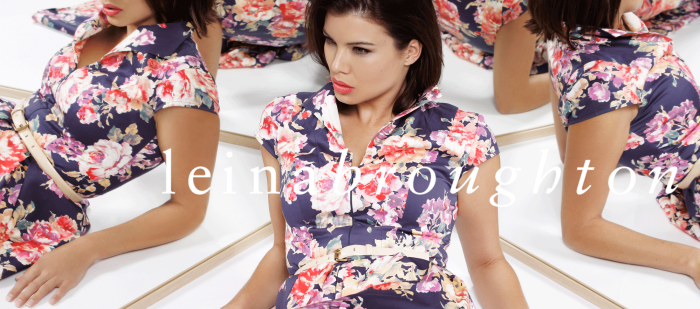 Are you a very fussy discerning shopper like me? What do you look for in workwear? Are you an LB customer and fan? …Or are you discovering them for the first time? Hit me with your thoughts in the comments below!