Happy International Women's Day! In celebration of this very special day, I am delighted to share the only post I work on for 12 months: a collection of the best moments for women in the past year. There is much to celebrate – I hope this list of truly sublime finds for womenkind brings you the joy I felt in collating it!
So what's happened in the last 12 months? Read on!
Uncharted water was charted
1. Michelle Payne became the first female Jockey to win the Melbourne Cup
On the first Tuesday of November, despite 100-1 odds, Michelle Payne rode to victory in Melbourne Cup and firmly into Australia's hearts. Elated after her win in her post-race interview, Payne paid tribute to Prince of Penzance's trainer and called out the chauvinistic culture of horse racing "It's such a chauvinistic sport, a lot of the owners wanted to kick me off" and her message to those who didn't want her there? "I want to say to everyone else 'Get stuffed', because women can do anything and we can beat the world," Payne yelled. #GoGirl!
2. Angela Merkel was named Time's Person of the Year
For the first time in three decades, Time Magazine recognised a woman as its prestigious Person of the Year; the person who has had "the most profound impact on the world". TIME editor Nancy Gibbs explains that "Europe's most powerful leader" was awarded the title for "asking more of her country than most politicians would dare, for standing firm against tyranny as well as expedience and for providing steadfast moral leadership in a world where it is in short supply."
3. Serena Williams was named Sports Illustrated's Sportsperson of the Year
In 2015, Serena Williams won 53 of her 56 matches, three grand slam titles and continued her reign as No. 1 in the world of women's tennis. In a supremely worth recognition of her incredible dominance, she was recognised by Sports Illustrated as the Sportsperson of the year. Sports Illustrated has been naming a sportsperson of the year for 61 years and Williams became the third female to be awarded the title. And damn, what a cover!
4. Misty Copeland became the first African-American to be named Principal Dancer by the New York Ballet Theatre
Copland, 32, was rewarded for a life devoted to dance this year when she seized the title all ballerina's aspire to; 'Prima'. Said Copeland at a news conference following the announcement, "I had moments of doubting myself, and wanting to quit, because I didn't know that there would be a future for an African-American woman to make it to this level. At the same time, it made me so hungry to push through, to carry the next generation. So it's not me up here — and I'm constantly saying that — it's everyone that came before me that got me to this position."
Misty's instagram is a sensational celebration of athleticism – check her out @mistyonpointe.
5. Saudi Arabia had it's first election where women could vote and run as candidates
17 women were elected into public office in Saudi Arabia after women voted, and ran in the election, for the first time. While the country is still considered one of the most repressive on earth for women, this step holds great significance.
Stereotypes were challenged
6. Isis Wenger sparked the #ILookLikeAnEngineer campaign
Isis appeared in a recruitment ad campaign for her employer, One Login, which much to her surprise attracted a whole lot of attention because she didn't 'look like an engineer'. As an attractive young female, Isis was presumed to be a model hired for the shoot. Actually an engineer, Isis took to social media to express her frustration with this picture sporting the hashtag #ilooklikeanengineer.
Female engineers (and men who didn't fit the stereotype) from around the world joined her holding their own signs sporting the hashtag and their job titles. Yep, they come in all shapes and sizes and they're fabulous.
7. Target USA removed gendered labelling from many of its aisles.
In a move that attracted way more press than one may have thought, Target USA removed gendered signs in departments across the store, in a significant move away from gender stereotyping.
8. Female Scientists were 'distractingly sexy' 
After Nobel Prize winner Tim Hunt shared his thoughts on the "trouble with girls" at a conference of science journalists, saying "Three things happen when they are in the lab; you fall in love with them, they fall in love with you and when you criticise them they cry". Shortly following, the hashtag #distractinglysexy started trending with female scientists urged to share pics of themselves at work.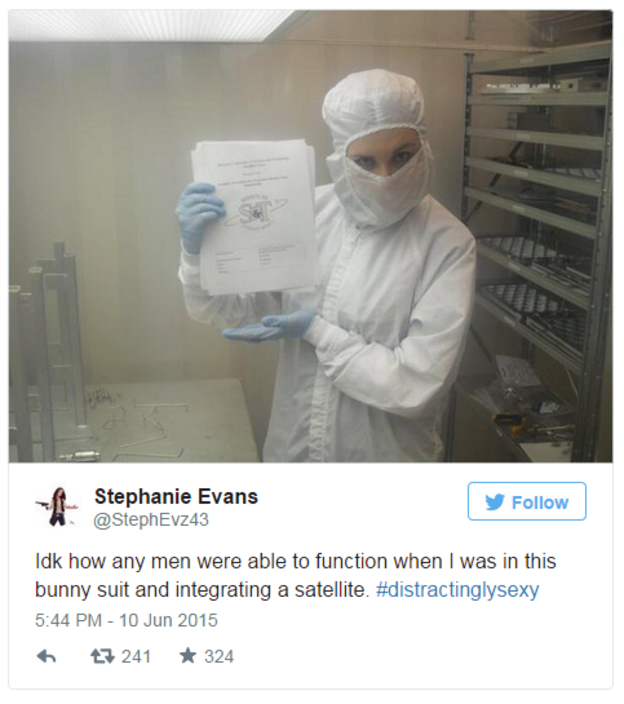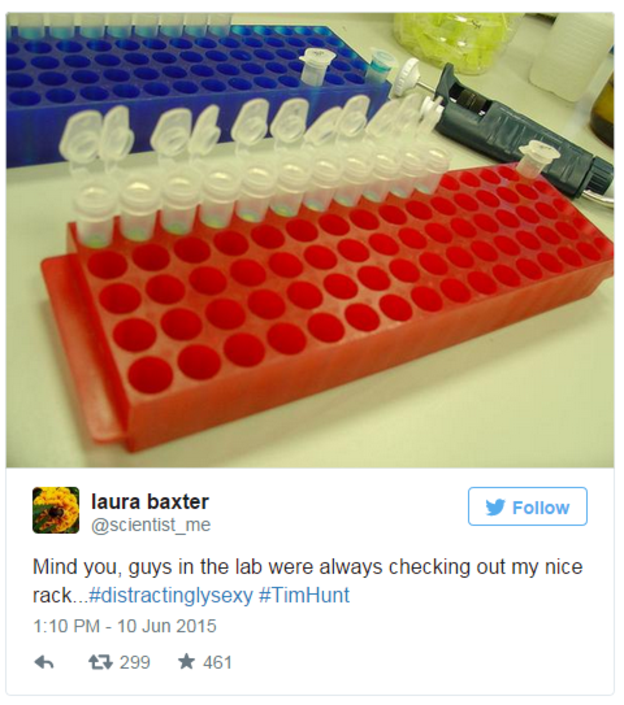 Tim Hunt subsequently resigned from his position at the University of London for being the biggest idiot Nobel Prize winner out.
We got real about our bodies
9. Sports Illustrated featured their first 'plus size' model on the cover of their swimsuit issue
Ashley Graham was featured as on one of three collectors item Sports Illustrated swimsuit issue covers. At size 16, she is the first plus-sized model to be featured on the coveted cover. When she shared the image on Instagram she captioned it "This cover is for every woman who felt like she wasn't beautiful enough because of her size. You can do and achieve anything you put your mind to."
10. Target Australia featured 'real women' in their Christmas & Valentines catalogues
Target made many women smile by featuring a beautiful cross-section of women's bodies in their Christmas catalogue. And then again in their pre-Valentine's Day lingerie spread.
Both advertising spreads generated much celebration on Target's social media platforms. People like to look at clothes on people that look like them! Go figure!
11. Clare Bowden cut her hair to prove girls with short hair can be princesses too.
Known for her role on Nashville, long locks was a defining characteristic of Clare Bowden's character, Scarlett O'Conner's, look. But in November she sought the TV show's persmission to cut her hair and debut'd a pixie cut. She decided to have the chop after hearing a young girl say she couldn't be a princess because she didn't have long hair. Having lost her own hair as a four year old after chemotherapy to treat end stage nephroblastoma, Bowden shared "Every scar tells a story, every baldhead, every dark circle, every prosthetic limb, and every reflection in a mirror that you might not recognize anymore. Look deeper than skin, hair, nails, and lips. You are who you are in your bones. That is where you have the potential to shine the brightest from. It is where your true beautiful self lives."
12. Barbie got a realistic makeover
Barbie is no longer synonymous with a thigh-gap, ending five decades of criticism suggesting her physique promotes an unrealistic idea of body image to young girls. In January this year, Mattel released three new body shapes for barbie; curvy, tall and petite. In the same launch, they debuted 7 skin tones, 24 hair styles, 22 eye colours and provided a refreshing reset on normal.
13. Annie Leibovitz photographed a very different Pirelli calendar.
Pirelli have a more than 50-year history of producing calendars filled with the world's most traditionally beautiful women, scantily clad and shot by famous photographers. It's a money-can't-buy perk for 20,000 VIP customers of the Italian tyre manufacturer.  But the 2016 calendar was different, featuring women chosen for their remarkable resumes rather than looks who posed completely free of provocation.
Jennifer Zimmerman, the global chief strategy officer for the McGarryBowen advertising agency said "Women have a disproportionately loud voice compared to their male counterparts. And for those women it is no longer socially acceptable to walk into a high-end garage that sells Pirelli tires and see a calendar with naked girls on the wall. You'd drive right out again in that Mercedes you came in with."
We cheered for exceptional male leadership 
14. Australia got a new, feminist Prime Minister
The women of Australia breathed a sigh of relief when our previous self-appointed Minister for Women got rolled last year. While I personally hold the unpopular opinion that the last guy wasn't as bad as the media portrayed him, I fist-pumped when Malcolm Turnbull, a self described feminist, got the gig. If we needed any proof that he's worthy of our respect, Julie Bishop's body language made it clear in their first press conference as Prime Minister and Deputy.
15. New Canadian Prime Minister, Justin Trudeau, appointed a gender balanced cabinet
Justin Trudeau made news for all the right reasons when he announced his first cabinet after the election. He said it was an "incredible pleasure . . . to present a cabinet that looks like Canada." When asked by a reporter why it was important to him to present a gender balanced cabinet, Trudeau replied: "Because it is 2015." #bestillmyheart
16. Lieutenant General David Morrison was named Australian of the Year
Rosie Batty's incredible service and advocacy as Australian of the Year was always going to be a hard act to follow. But much to our delight, the role was given to Lieutenant General David Morrison, the now-retired former Chief of Army and passionate gender advocate. We covered Morrison's story on the blog in January and can't wait to see how he progresses the gender agenda this year.
Some gutsy women tackled taboos
17. Kiran Gandhi ran the London Marathon on the first day of her period without a tampon to 'fight the stigma of periods'
Kiran Gandhi, Harvard Business School graduate and professional drummer, signed up to run the London Marathon to raise money for Breast Cancer (she raised $7,000!). The night before the race, she got her period. She panicked, having never run a marathon before and not knowing how she'd handle it – she didn't want to run the 26 miles with a tampon… and made the decision not to.
"I ran with blood dripping down my legs for sisters who don't have access to tampons and sisters who, despite cramping and pain, hide it away and pretend like it doesn't exist. I ran to say, it does exist, and we overcome it every day. The marathon was radical and absurd and bloody in ways I couldn't have imagined until the day of the race."
Her move made headlines around the world – including attracted a fair amount of criticism – but certainly led many of us to consider why this entirely normal part of being a woman is still so taboo.
18. The hashtag #shoutyouraborition was used by tens of thousands of women around the world
As the US House of Representatives made moves to defund Planned Parenthood (a nonprofit health service which offers a range of services of which abortion is one) writer Lindy West had a realisation after reading her friend's plain-speaking account of her aborition on facebook. West realised that despite writing 'confessionally about myself' for a living, she had treated her abortion, for which she was extremely grateful, as a secret. She of course was not alone and went on to note even progressive, out-spoken and pro-choice feminists do the same, paving a way for anti-abortion campaigners to dominate far too much of the limelight on the topic. With her friends persmission, the shared a screen grab of her story on twitter with the comment "The campaign to defund PP "relies on the assumption that abortion is to be whispered about." #ShoutYourAbortion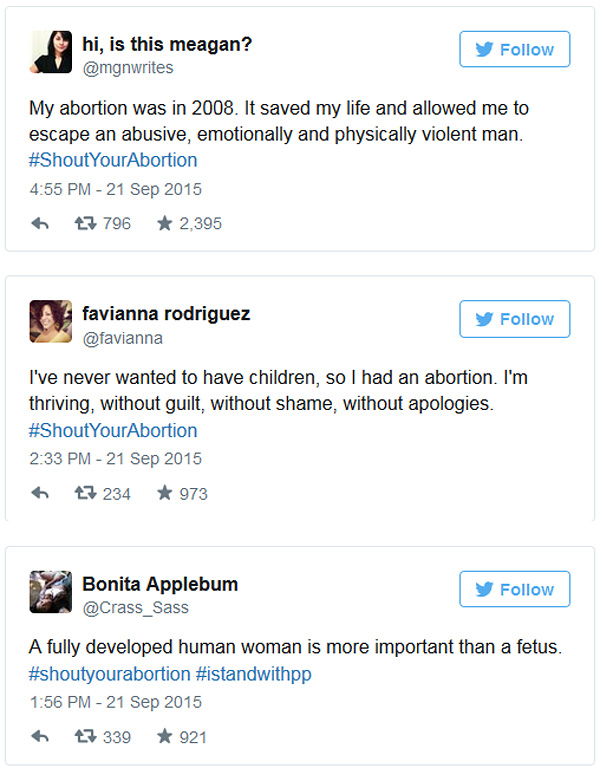 And from around the world, in 140 characters or less, women did – sharing stories where choice had enabled them to live the life they imaged for themselves.
We had a long-overdue conversation about trans-women

19. Caitlyn Jenner helped us understand what it's like to be transgender
From olympic icon, to father and husband in the household of arguably the world's most famous pop-culture family, to woman – Caitlyn Jenner's journey is one no-one saw coming. Having an identify so firmly in the public domain then announce he was transitioning to she normalised the transgender challenges and experience for people the world over.
20. Catherine McGregor was named Queenslander of the Year
Catherine McGregor was in her mid-fifties before she made the decision to transition to what had always felt most natural to her – being a woman. As then Chief-of-Army and now Australian of the Year's right-hand, she became Australia's highest-ranking transgender individual in the army. Post-army, Catherine has gone on to advocate for LGBTI people in the Asia Pacific region as patron of Kaleidoscope Australia and was named Queenslander of the Year (despite not being a Queenslander!).
21. Laverne Cox became the first transgender person to be nominated for an Emmy
Orange Is The New Black star Laverne Cox was nominated for her role as Sophia Burset in the Netflix Original series.
Many people refused to sit silently while inequality happened
22. Clementine Ford called out Sunrise for Victim Blaming
In June, Sunrise reported police were investigating the theft of hundred's of Australian women and teenagers' images which had been posted to a 'revenge porn' site in the US without permission. While Kochie described the hack as 'just terrible' the Sunrise team posted the story to facebook leading with the statement, "What's it going to take for women to get the message about taking and sending nude photos?"
Angry spectators took to social media to voice their disgust and Clem Ford's voice was heard the loudest when she shared this nude picture of herself:
With her post she commented "I have taken nude photos of myself and sent them to lovers. I've taken nude photos of myself when I'm bored. I've taken nude photos just because I have a smart phone and it's fun. None of that means I have asked for my privacy to be violated, my photos stolen and my very self made available for public humiliation and judgment. Consent is everything.
When Channel 7's Sunrise asks 'when will womenlearn' instead of 'why do men continue to view women as objects they can defile and violate while the world watches and tut-tuts', they are victim blaming. They are saying it's the responsibility of victims of crime and assault to prevent it and not the responsibility of society to make such crimes intolerable and unacceptable." 
The post was shared over 78,000 times, received 314,000 and certainly got us talking about the way we describe female victims.
23. Jennifer Lawrence shone a light on the gender pay gap in Hollywood
J-Law shared a very personal message about her experience with the gender pay gap in hollywood when she penned a letter entitled 'Why Do I Make Less Than My Male Co-Stars?' for Lena Dunham's Lenny Letter. The article came after the highly-publicised Sony email hack which revealed (among many other things) that Lawrence's male co-stars had been earning considerably more than her on their film, American Hustle.
Acknowledging the difficulty in talking about pay given her issues weren't 'exactly relatable' she went on to express her frustration at herself for the gap. "I didn't get mad at Sony. I got mad at myself. I failed as a negotiator because I gave up early. I didn't want to keep fighting over millions of dollars that, frankly, due to two franchises, I don't need."
She went on to touch on the element that is very real for many women: "If I'm honest with myself, I would be lying if I didn't say there was an element of wanting to be liked that influenced my decision to close the deal without a real fight. I didn't want to seem "difficult" or "spoiled." This was absolutely a fair concern  in light of the fact that Angelina Jolie had been branded a "spoiled brat" in the same Sony leak for demanding a higher salary for her own role. J-Law concluded her piece by stating "I'm over trying to find the "Adorable" way to state my opinion and still be likable. Fuck that."
24. Matt Okine used his Aria's acceptance speech to ask 'where are the women?'
When Matt Okine stepped onto the Arias stage to accept the award for 'best comedy release' the audience was likely expecting some lols. Instead he used his acceptance speech to highlight the fact that no females were nominated in his category (and hadn't been for five years) saying "I don't think there were any women nominated in 'Best Comedy Release, and there's not even any female featured guests" and "I didn't feel great reading that list of people." Backstage he told reporters he felt "silly" about his speech but that it was everyone's duty to speak up. "Now I feel silly and judged about it … but I feel like, what am I supposed to do? Be passive about it? [Speaking up] is absolutely necessary."
Yes it is. Thank you, Matt Okine.
25. The Matilda's striked for better pay
While there's few Australians expecting women to receive the same pay as men in sport (yet) the Matilda's shone a light on just how difficult it is to make ends meet as female athletes. In 2015 the Matilda's became Australia's most successful soccer team ever when they made it to knockout stage in the World Cup by beating Brazil and are now ranked number 9 in the world. Yet despite training full-time in the lead up to the competition, the players were paid a part-time wage; $21,000 for a basic contract which equates to two-thirds of the minimum wage in Australia.
By comparison, their male counterparts (the Socaroos, who are ranked 58th in the world) who played all games in the season earnt in excess of $200,000. Many Matildas were supplementing their salary with part-time work cleaning or in retail and when work was scarce, applying for the dole. So the team went on strike, missing the world championships in the USA and casting doubt over preparations for the Olympics.
Their difficult negotiations were not in vain, reportedly reaching a two-tier deal with the Football Federation of Australia to see their minimum wage raised to $34,000.
26. Clementine Ford tackled online abuse when called a 'slut'.
Clementine Ford hit headlines again when after being called a 'slut' by a male on Facebook who publicly identified his employer on his own Facebook page, she decided to contact his employer and alert them to his behaviour. The employer – hotel chain The Meriton – responded by sacking the employee and asked Clementine to share the update with her Facebook followers, which she did.
What followed was online abuse so copious and so horrific it had to be seen to be believed – Ford shared screenshots of the messages she was editing off her social media accounts on her blog. I read half before feeling so physically ill I had to put my phone down. In the days following I felt amazed at Clementine's resilience in the face of such horrific and abhorrent online abuse and while the exchange had clearly polarised spectators, there was such reason to be grateful that she'd spoken up and stood up to online abuse. What followed was one of the biggest conversations around online abuse we've had in the Australian discourse in recent years and on a personal level while we agree with Clem or not – she started two extremely important conversations for women in particular this year and for that I'm grateful. #thankyouClem
We insisted on being who we are, unedited
27. Kate Winslet demanded a 'no photoshop' clause in her contract with L'Oreal
Kate Winslet, the face of Lancome, wanted to ensure it is indeed her face the brand is promoting by having parent company, L'Oreal commit to a 'no photoshop' clause in her contract. Why? She said she feels a strong responsibility to "the younger generation of women".
"I think they do look to magazines," she said. "I think they do look to women who have been successful in their chosen careers and they want people to look up to, and I would always want to be telling the truth about who I am to that generation because they've got to have strong leaders. We're all responsible for raising strong young women, so these are things that are important to me."
28. Ronda Rousey apologised for unknowingly posting a retouched photo of herself to Instagram
UFC fighting celebrity, Ronda Rousey visited Jimmy Fallon last month and following her appearance, posted a photo to Instagram allegedly provided to her by a member of the Fallon crew, not realising it had been photoshopped to slim her right arm. Upon learning of the photo edit, Rousey posted a photo of the edited shot with the original, apologising for sharing a retouched image and declaring 'I am extremely proud of every inch of my body.'
We celebrated smart girls
29. Amy Poehler's Smart Girls asked some ripper questions on the red carpet
After #askhermore trended at last year's Oscar awards, encouraging red carpet reports to ask actresses about more than just what they were wearing, Amy Poehler's Smart Girls encouraged women and girls to submit their best, thought-provoking questions to be used on the Emmys red carpet. Brittany Spears, Hillary Clinton and Malala all got in on the act posing their questions and actresses on the red carpet took delight in showing off their smarts answering them. You can check out a bunch of the videos and questions here.
30. 16-year-old Olivia Hallisey designed an economic way to detect Ebola
Hallisey, a high school student in the US won Google's science fair with an ebola test that can be done with saliva, in under 30 minutes and for $25. "Nothing exists in isolation," Hallisey has said of her research. "What affects one country affects everyone. We have to work together to find answers to the enormous challenges that threaten global health, our environment and our world." #wisewellbeyondheryears
We were encouraged to dream big for our future
31. Mattel encouraged us to imagine the possibilities
… and asked us to consider: what happens when girls are free to imagine they can be anything?
32. Emma Watson interviewed Malala Yousafzai and feminists everywhere took heart 
In what turned out to be a beautiful, humble and inspiring conversation on feminism and the future Emma Watson interviewed Nobel Peace Prize winner Malala Yousafzai around the time the film 'He Named Me Malala' came out. They were totally star struck by each other and their mutual respect and their passion to create positive change was truly heart warming and future-brightening. You can catch it here.
33. Reese Witherspoon spoke about ambition #notadirtyword
At the 2015 Glamour magazine Women of the Year Awards, Reese Witherspoon was presented with an award for her work creating stronger roles for women in film. She talked of the amazing actresses and films that inspired her starting out in the industry and her frustration at repeatedly being pitched everything but. So she asked herself 'What do we do now?!' and started her own production company, Pacific Standard Films, with her own money. They produced Gone Girl and Wild in their first year, grossing over half a billion dollars at the box office and saw three women nominated for Academy Awards for acting performances. Reese's entire speech is sensational – you can read it here – but she saves the best for last:
"So here's my hope: If you're in politics, media, the tech industry, or working as an entrepreneur or a teacher or a construction worker or a caregiver, you know the problems we are all facing. I urge each one of you to ask yourselves: What do we do now? That's a big question. What is it in life that you think you can't accomplish? Or what is it that people have said that you cannot do? Wouldn't it feel really good to prove them all wrong? Because I believe ambition is not a dirty word. It's just believing in yourself and your abilities. Imagine this: What would happen if we were all brave enough to be a little bit more ambitious? I think the world would change."
________
While there's been many wonderful moments for women this year, Reese is right – more change is needed. This year our gender pay gap widened and Australia slipped own the rankings of the World Economic Forum's gender rankings and the estimated time it will take to see gender equality grew to a time beyond any of our lifetimes.
I truly believe we each have a role to play in changing the world for the better. Like those gutsy individuals above, there is an opportunity for each of us to use our voice, our talent, our bravery and our ambition to continue to seek gender parity. But it doesn't take a world stage… we can seize the small moments to be encouraging and inclusive; recognise the talent and contributions of an amazing woman you know, resist raising an eyebrow when someone steps out of their gender stereotype, take time to be grateful for you body and mind – exactly as they are – and all they enable you to do, recognise the increasing number of male champions in our homes and workplaces and most of all – dare yourself to dream a little bigger. I'll do the same!
What have been your favourite moments for women this year? How will you change the world? I'd love to talk further in the comments below!