I love Netflix.
This isn't the sort of thing I'd normally blog about it, but Netflix Australia has majorly rocked our socks off at the Casa de Smith… in fact it's so dang good it would feel remiss to not share the deets of such a sublime find!
We've been running a non-traditional TV setup at home for a few years: we haven't had our TV plugged into mainstream free to air channels since moving a bit over three years ago and we don't have Foxtel. I hate the ads, I despise the mediocre programming and in the past I've found I've lost DAYS to shitty quality tv I barely enjoyed, just because it was on. So what have we been watching? Well, I'm not saying we've been downloading TV from the internet… because I presume that wouldn't be a smart thing to do on the internet, legally speaking. But it's accurate to say we'd taken matters into our own hands in terms of sourcing our favourite TV shows (and got really good at rocking 'talk like a pirate' day).
Don't get me wrong – I don't see any appeal in 'stealing' TV shows from the internet. But it does seem like madness to me that in this day and age we haven't had a legal way to watch what we want, when we want it, at a reasonable price.
Until Now!
Netflix has finally changed the game!
What is this all this Netflix business anyway?
Netflix is a Subscription Video on Demand (SVOD) service; subscribing gives you access to Netflix Australia's catalogue of tv shows and movies. It is essentially a library of entertainment you can access anytime. Rather than held in your own database or hard drive, tv and movies are streamed via the internet. So as you'd guess, solid internet bandwidth [speed] and monthly limit are required. Most internet providers are now offering plans specifically for people streaming TV, so this isn't too hard.
Netflix is essentially more tv and movies than you could ever watch, all available to consume exactly when you want it – without commercials! 
There are some other players that joined the SVOD game around the same time as Netflix came to Australia: Quickflix, Stan and Presto. We tried Stan, the catalogue is really average. I think these other providers are to Netflix what Bing is to Google… Netflix will bump 'em out of the picture soon enough.
Like most fun technology-based things, the Yanks have been doing this long before us and loving it sick. If you haven't already, you'll likely  hear that the US Netflix is 'waaay better' than the Australian one. It's true. But if the Aussie experience follows the US, we'll see more and more shows sign with Netflix as their exclusive Fox contracts run out and the Netflix offering will continue to grow.
What does it cost?
We signed up for $11.99 per month for HD and two screens. Smaller and bigger plans available per below.
How do I get it?
There's a few ways!
On your laptop or device: you can sign up to Netflix and live stream from your laptop/device. But who wants to watch tv that way at home?
Via your smart TV: new TVs with internet capabilities (anything from the last couple of years) will have a menu item available that will enable you to connect directly.
Via your console: Xbox, Playstation and Nintendo Wii consoles (i.e. internet enabled consoles) have the functionality to connect you and your TV to Netflix.
Via Apple TV: this is how we do it, we have a teeny box that plugs into our TV which enables us to display content from our Macs/iPads/iPhones our TV, plus the ability to connect to the iTunes store, YouTube and a variety of other channels (like a TED channel! And American sports! [I think, its used]) plus NETFLIX. It essentially is a gateway between your TV and the Internizzle. It's a whole lotta awesome.
So the last three options let you drive Netflix through your TV with a remote, just like old school regular TV!
So what can I watch?
While we didn't realise the full extent of it at first, there's a shedload of good stuff buried in the Netflix catalogue – including some great shows exclusive to Netflix! Some favourites:
Friday Night Lights
Friday Night Lights (FNL) follows the story of Eric Taylor (Kyle Chandler) and his family as he coaches high school football in Dillon, Texas. The creators of FNL took what could have easily been a cheesy high school TV show and made it into something fantastic through great characters and real feels. The ratio of football to drama is perfectly nailed (JS and I were equally big fans of the show), great comic timing makes for some major lol moments and clever plot twists keep the series feeling fresh. Also, all five seasons include Tim Riggins.
In a couple of years, we'll absolutely re-watch this series, been having major post-FNL blues after finishing it! All five seasons are ready for you to binge-watch.
Nashville
I chose Nashville to fill the gaping Friday Night Lights shaped hole in my life as leading lady Connie Britton is common to both shows. And she's great. I didn't expect to love Nashville as much as I do – it follows the stories of two country music stars navigating life, love and stardom in (surprise!) Nashville. I have actually become totally transfixed by the AMAZING eye makeup the leading ladies in the show wear. It's worth a watch just for some beauty inspo! Netflix has Season 1 only at the moment, I bought Season 2 on iTunes and Season 3 is airing in the states at the mo'.
Bloodline 
A Netflix exclusive series (produced by Netflix for Netflix) this drama explores the demons lurking beneath the surface for The Rayburns; owners of a hotel in Florida Keys. When their black-sheep son returns home and threatens to reveal the family secrets of the past, things start to unwind in what turn out to be super compelling viewing. Only one season available so far, been renewed for next year and we can't wait.
Orange Is The New Black 
There's been plenty in the media about this one – OITNB is an adaption of the true story of Piper Kerman, an American writer sent to jail several years after the crime she committed. OITNB follows Piper's journey in Prison and makes for voyeristic viewing of life behind bars. Filled out with a girth of fantastic, strong female characters, it's more great watching. Another Netflix Original with three seasons to watch now.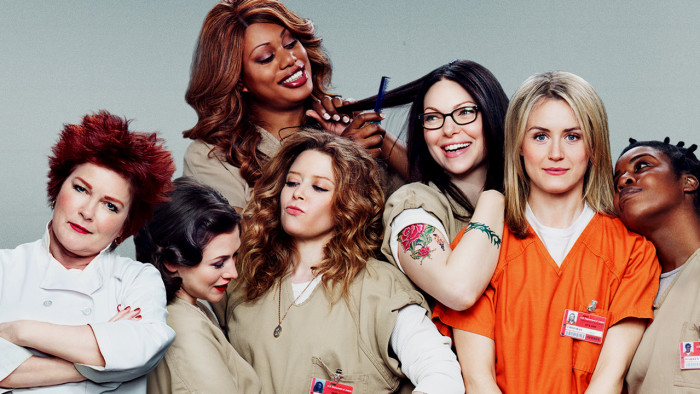 Suits
If you haven't caught any of this series yet, you're in for a treat. Between the fast-talking wit of slick lawyer, Harvey Spektor and his genius offsider Mike Ross this show has pace and heart and great plot lines. It's also bolstered by compelling characters like insecure partner, Louis Litt and power woman Jessica Pearson. Three (or four? soon to be four?) seasons available now.
Grace and Frankie 
Jane Fonda and Lily Tomlin headline this comedy as unlikely friends in the wake of their husbands (Martin Sheen and Sam Waterston) coming out of the closet. Packed with lols and and bite size to consume (23ish mins an episode) you'll scream through the premiere season, just released. Your mum will love it too.
Rake
Rake's an Australian comedy/drama following the life of brilliant criminal barrister Cleaver Greene as he battles his self-destructive tendencies. Between Cleaver's wacky clients and the considerable acting talent of Richard Roxburgh (Greene) it's extremely watchable, even if it does leave you with the feeling like you need to detox and clean your house. The three seasons thus far (all on Netflix) is a roll call of Aussie actors in guest appearances, right down to Cate Blanchett! Just been renewed for a forth season, expected next year.
The Unbreakable Kimmy Schmidt 
Another Netflix Original, The Invincible Kimmy Schmidt leverages the considerable writing talents of Tina Fey in this comedy which follows the story of (you guessed it) Kimmy Schmidt! Kimmy decides to reclaim her life in New York City with wide-eyed enthusiasm when she's rescued after 15 years held captive in a cult. Hilarity ensues. Bite sized (23min) episodes with plenty of lol-factor! One season so far.
House of Cards 
House of Cards takes us deep into the dark and manipulative world of American politics and the breed of people willing to do whatever it takes for power. Secrets, lies, exceedingly strong characters (headlined by Kevin Spacey and Robin Wright) and twists and turns you won't see coming: House of Cards is difficult to look away from. A Netflix Original – all three seasons are ready to burn through.
Some other big name shows…
Less in need of explanation, there's some other big  hits on Netflix to binge watch if you didn't catch them the first time around (or if you did!) including Gossip Girl (Wealthy Upper East Side private schoolers have their lives and mischief profiled by anonymous online blogger), Mad Men (Brilliant drama set in the advertising agencies of Madison Avenue in the 60s), Downton Abbey (Period drama set in the early 1900s at an English Manor) and Homeland (CIA fights terrorism with super compelling, albeit somewhat unbalanced cast).
And More!
Netflix also comes with a big catalogue of movies, documentaries, comedy, TED talks and mini series plus a kids only channel. There is really SO much to consume for the price of a few coffees + and the right internet plan (which is quite probably the one you've already got).
With a free one-month trial and cancel anytime, if you're a lover of a good evening on the couch with the doona (and the dog?) then Netflix is well worth looking into! (Read: jumping on immediately!) Anywho, my Netflix Nashville is waiting (for me to watch whenever I dang want) so I'm out!
Have you got Netflix already? Do you love it? What have you been watching? Share in the comments section below!