I never really considered what was on 'the other side'. I didn't know if I believed in an afterlife. But now, I have seen heaven with my own eyes and I'm thrilled to share it with you*. It is 42,000 square feet of designer shoes! A cluster of the worlds most exquisite flagship shoe boutiques and all of their collections. It's everything we could have hoped for and more.
*I can share it with you because as it turns out, you can take your iPhone to heaven, and also, shoe heaven has a website. It's terribly progressive.
I didn't realise it was my time to go.
Given my passionate, lifelong love for shoes, I'm almost embarrassed to admit that I didn't know Shoe Heaven existed. It was our first day in London, and I'd snuck out to Harrods on my own to explore the shopportunities. I slipped into the store and found a directory to orient myself, it was a little booklet I could take with me (perfection). My preferred method of exploring a department store is to start at the top and work my way down, so I flicked to the back of the store directory booklet, found the top floor… and there it was…
Shoe Heaven!
I don't exactly remember what happened next. I was in a lift, and a bright light shone out at me from behind number five. My hand reached out toward the light, I touched it. I was whisked upwards (towards the heavens… or heaven as it turned out to be) and then the double doors opened, and I was there. I was in Shoe Heaven.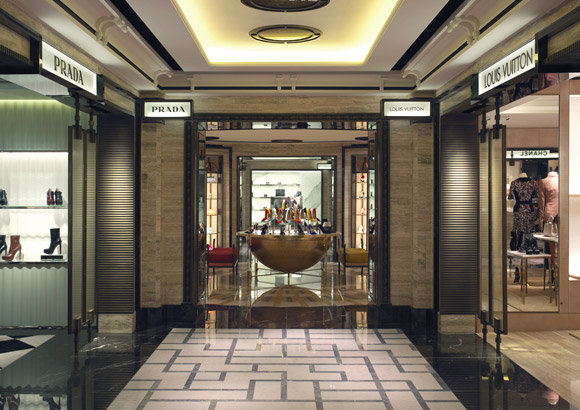 It was beautiful.
Like the exquisite kate spade flagship store I would go on to experience not a week later, it had an incredibly welcoming feel, you know… like somewhere you could stay for all eternity.

These flagship stores feel as if they are endlessly flowing and overspilling into one another. You'll also notice on the map that when exploring Shoe Heaven you end up where you began, circling around. I think I did three laps before I had any desire to figure out how to leave.
Shoe Heaven is home to more than 100,000 pairs of shoes.
Yes. Yes! Just let that soak in for a moment.
One hundred thousand pairs… lets do the maths on that. I think it's conservative to estimate that translates to upwards of FIFTY MILLION dollars worth of shoes. I'm going to bet there's a surveillance system in that stock room. I also bet this is where Cinderella's Fairy Godmother is doing her sourcing.
And with good reason. Its residents are exquisite:
I didn't realise it at the time of my visit, but there's some extremely rare and exquisite jewels which have taken residence in Shoe Heaven. *Exclusive* styles, designed especially for the afterlife Shoe Heaven and not to be found anywhere else… like these extremely fun Valentino's:
The adventures of unaccompanied shoeaholics…
At one point in Heaven, I was lusting over some flats in Jimmy Choo when a panicked man, perhaps in fifties, came running into the boutique. The staff looked up and asked if he was okay, he blurted out "Have you seen my wife!? I can't find my wife!" – there was true fear in his eyes. And rightly so. Shoe Heaven is the perfect place to invest allllll of your superannuation. With the right credit card or bank balance, an unaccompanied woman with slippery self control could make a lifetime's worth of footwear dreams come true.
(Later I saw the man with a woman [presumably his wife] who was by then sporting a rather large Harrods carry bag. I think he got off lucky.) As for me? There was a divine intervention that prevented me from pulling out my own credit card – and as a result, I'm still holding onto hopes of being able to retire one day.
To finish, the teaser video Harrods have produced to give a glimpse into all that awaits on the other side:
Sublime seeking shoe-lovers: may your lives be long and happy and when the time comes… may there be 100,000 pairs of designer shoes waiting for you on the other side!
Do you love shoes as much as me? Are you dying to check it out? What would your heaven be filled with?