Happy International Women's Day, lovely things! Regular readers know we love acknowledging fabulous women and those in our facebook family have had a double-dose in the lead up to IWD!  So it will come as no surprise that this is a post I've been excited about writing for a long while!
IWD is about celebrating the achievements of women and raising awareness for gender equality. Today we plan to do both by taking a look at the 26 best moments for women in the last year! These moments, these achievements, these acknowledgements are sublime finds; every one.
So what's happened in the last year? Lets recap!
'Feminist' got some (much needed) good PR 
The 'feminist' title is unfortunately one that has carried with it some negative and extremist stigma, making it a word many females feel uncomfortable claiming to describe themselves (ahem, Julie Bishop – this section is for you).
1. Beyonce ensures the world knows she's a feminist 
If there's one person in the world that can make something cool – it's Beyonce. At the VMA awards in August, Bey rocked an incredible 18 minute set, in which this moment happened:
2. Chanel embraces feminism as oh-so-chic 
Chanel is to fashion was Beyonce is to celebrity and this year they were both singing from the same sheet. At the conclusion of Chanel's Spring 2015 ready-to-wear collection, Karl Lagerfeld led a feminist riot down 'Chanel Boulevard'. While the finale had some critics voicing their cynicism, it was unquestionably powerful to have Chanel and feminism in the same headlines.  #feminismissochic
3. Taylor swift learns about feminism, comes out as feminist 
In an interview in 2012, Tay was asked if she was a feminist. Much to the frustration of many, she answered the question by saying "I don't really think about things as guys verses girls".
She's since been schooled on what feminism is (by Lena Dunham no less!) and in August explained she was ready to embrace the title:
"As a teenager, I didn't understand that saying you're a feminist is just saying that you hope women and men will have equal rights and equal opportunities. What it seemed to me, the way it was phrased in culture, society, was that you hate men. And now, I think a lot of girls have had a feminist awakening because they understand what the word means."
4. Emma Watson owns at the U.N.
Perhaps one of the most important moments for feminism and equality in a long time, Emma Watson knocked our bloody socks off with her speech to the United Nations. Emma stated "I decided that I was a feminist, and this seemed uncomplicated to me" before formally extending men an invitation to participate in the gender equality conversation and launching the #heforshe campaign.
We recapped this one as it happened in a separate post here. (Including a video of the speech!)
Then the fellas got involved… 
The second half on 2014 saw a bunch of high profile men come out in support of gender equality giving us a whole lot of warm fuzzies!
5. The blokes rolled out in support of #heforshe
Let it be known, when Emma Watson speaks, the world listens. A swathe of celebrities showed up on the web with the #heforshe hashtag.
6. Aziz Ansari dishes up Feminism 101 on Letterman
Funny-man Aziz Ansari of Parks and Recreation fame talked feminism with David Letterman on the iconic talk show. He offered the following feminism litmus test:
"You're feminist if you go to a Jay Z and Beyoncé concert and you're not, hmm, I feel like Beyoncé should get 23 percent less than Jay. Also, I don't think Beyoncé should have the right to vote, and why is Beyoncé singing and dancing? Shouldn't she make Jay a steak?"
Treat yourself to some lols with the whole interview:
7. Joseph Gordon Levitt takes to YouTube to explain why he is a feminist
Joseph Gordon Levitt started getting press as a feminist after Ellen asked him if he was a feminist on her show. JGL said yes. He took to his youtube channel to explain why:
He says:
"To me it just means that your gender doesn't have to define who you are, that you can be whatever you want to be, whoever you want to be, regardless of your gender."
8. Lean In launched the #LeanInTogether campaign
This week, Sheryl Sandberg's Lean In organisation has launched #LeanInTogether – a campaign that encourages men to help women in the fight for gender equality.
The website (leanin.org) offers a bunch of tips for men to support their partner, kids and push back against gender bias, like this one:
Better yet – Lean In have paired with Getty Images (a leading source of stock photos worldwide) to bring realistic stock photos of men to online editors and readers. Be gone endless pics of white guys in suits! Check out some in the collection:
We celebrated women in non-traditional contexts
9. Laverne Cox raised awareness for transgender people
Laverne Cox of Orange is the New Black fame became the first transgender person to appear on the cover of Time magazine and the first transgender person to be nominated for an Emmy. She says:
"If someone needs to express their gender in a way that is different, that is OK, and they should not be denied healthcare. They should not be bullied. They don't deserve to be victims of violence … That's what people need to understand, that it's okay and that if you are uncomfortable with it, then you need to look at yourself."
10. Mo'ne Davis became the first girl to pitch a 'shutout' in the Little League World Series 
Mo'ne is a seriously badass pitcher. During 2014's Little League World Series, at 13 years old, she pitched a 'shutout' (where the pitcher pitches the whole game and the opposition doesn't score any runs). Her team won, Mo'ne was a sensation, Sports Illustrated put her on their cover. #bringonmajorleague
11. Female Superheros are coming soon! 
In July, Marvel Comics announced that a woman would be takin' over the role of Thor and in October, they announced Captain Marvel will get her own movie in 2018! DC were also on the bandwagon, confirming the Wonder Woman movie is happening, due to hit our screens in 2017.
12. Getty Images paired with Lean In to fix lady stock photos 
Before Getty Images Leaned In Together to fix stock photos of fellas, they fixed the supremely sh*t stock photos of women; salads, sunshine and stuffy pant suits. Nearly one year ago exactly, Getty Images launched their first partnership with the Lean In organisation to develop a library of over 2,500 images of women in contemporary work and life. And they rock.
Some amazing women were recognised 
13. Malala Yousafzai wins a Nobel Peace Prize
If you didn't know Malala Yousafzai at the start of October – you did by the end. The 17-year-old Pakistani campaigner for women's equality and equal access to education became the youngest person ever to be awarded the Nobel Peace Prize.
Malala first earned the attention of the public when BBC Urdu published her heartfelt diary chronicling her desire to remain in education and for girls to have a chance to be educated. It wasn't appreciated by everyone. A Taliban gunman boarded her school bus and opened fire, shooting Malala in the head and wounding two of her school friends. She survived the dramatic assault and was greeted with international fame. Three months later she was discharged and continued her plight.
After winning the prize she joked with reporters that she was probably "the first winner that still fought with her younger brothers" and said the Nobel Prize "is not going to help with exams" then promptly went back to chemistry class. #likeaboss
14. Maryiam Mirzakhani became the first female to win the Fields Medal in it's 80 year history
The Fields Medal is described as the Nobel prize for mathematics. Maryiam, an Iranian maths professor at Stanford University, describes maths as full of "beauty and elegance". Sir Tim Gowers, a fellow Fields medalist and mathematician at Cambridge University said "I am thrilled that this day has finally come, although women have contributed to mathematics at the highest level for a long time, this fact has not been visible to the general public. I hope that the existence of a female Fields medalist, who will surely be the first of many, will put to bed many myths about women and mathematics and encourage more young women to think of mathematical research as a possible career." #weloveyouTim
15. Rosie Batty was named Australian of the Year 
Rosie Batty gave voice to the thousands of domestic violence victims when she spoke out hours after her 11-year-old son Luke's murder. Australia listened. Rosie's remarkable courage has put domestic violence on the national agenda.
16. Elizabeth Broderick wins 2014 Women of Influence Award 
I had the incredible privilege of hearing Elizabeth Broderick speak a couple of years back in her capacity as Sex Discrimination Commissioner. She had not long launched the Male Champions of Change initiative – gathering a group of extremely high profile male CEOs to progress the agenda of women in leadership.
Incredibly no-nonsense and hitting the perfect balance of strategic and humble Elizabeth's work had gone from strength to strength. Seeing her recognised by the Australian Financial Review and NAB in this award is incredibly satisfying.
The definition of 'beautiful' continued to expand 
17. Lammily launched their Barbie anti-dote 
The Lammily doll hit the market in 2014 as a result of a crowd funding project – more than 13,000 people signed up to support creation of the 'first' doll on the market to be reflective of real women. The doll comes complete with reusable stickers that show scars, stretch marks and acne.
This week the Lammily doll has starred in a new advertisement aimed to highlight the pressures on women to look good. In the ad she realises that everyone has flaws and you just have to be yourself.
18. We saw difference in fashion week
The Fall 2015 shows are still continuing in Paris, but this season has given us some reason to take faith in the fashion worlds very slow but very real attempt to show diversity in their models.
19. Tracy Spicer ditched the makeup.
Home grown Tracy Spicer called bullsh*t on living life as a 'painted doll' and decided to claim back 2 hours a day by going cold turkey on her beauty routine. Prompted by her daughter asking her why women wear makeup, Tracey took the very brave step of un-making-up herself during a TED talk.
She's also shared the thinking behind her change in this article on The Daily Life.
We are talking about sexism and violence targeting women
At first glance this might feel like a strange thing to include in a 'best moments for women' post and while these are issues we all truly wish didn't exist, they do. Until they're not, they need to be talked about, and in the last year they have been… which is progress.
20. #YesAllWomen was tweeted more than 2 million times in 4 days 
After a 22-year-old man's misogynist killing spree in Santa Barbara, an emotional, organic campaign started online highlighting that #NotAllMen may be rapists or abusers, but #YesAllWomen deal with the threat of being hurt every day. Using the hashtag, women spoke out about their own experiences sexism, discrimination, objectification, sexualization, street harassment, fear of sexual assault and anecdotes about what it means to be a woman today.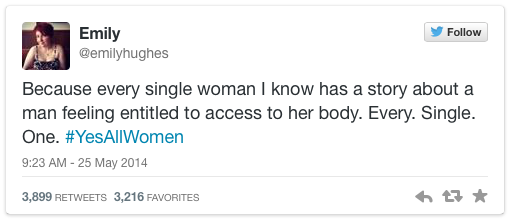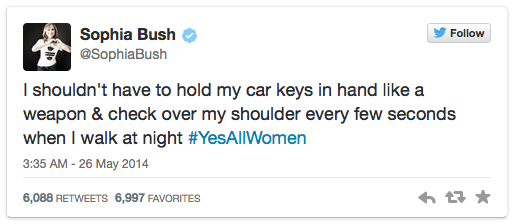 21. Jennifer Lawrence fought back against leaked photos.
In October 2014, nude photos belonging to Jennifer Lawrence were leaked online. Arguably one of the most famous actresses to be targeted in what she called a "sex crime" when J-Law broke her silence on the photos taken during her 4-year long distance relationship, it was with outrage. She told Vanity Fair:
"I started to write an apology, but I don't have anything to say I'm sorry for. I can't even describe what it feels like to have my naked body shot across the world like a news flash against my will. It just makes me feel like a piece of meat that's being passed around for profit… Just because I'm a public figure, just because I'm an actress, does not mean that I asked for this. It does not mean that it comes with the territory. It's my body, and it should be my choice, and the fact that it is not my choice is absolutely disgusting."
22. It seems that finally domestic violence is in the spotlight.
One in three Australian women have experienced physical violence since the age of 15 and almost one in five will experience sexual violence in their lifetime. As I'm writing this, I have goosebumps thinking about how many of you who read this will relate to that statistic.
Through the work led by Rosie Batty, the stance taken on social media, people calling on politicians for a Royal Commission and organisations harnessing opportunities to disrupt the conversation – it seems that momentum is building to genuinely uncover the epidemic that is domestic violence around the world.
One organisation has this week has put the topic in the headlines again; South Africa's branch of the Salvation Army has harnessed the power of the dress that took over social media in a campaign launched to coincide with IWD: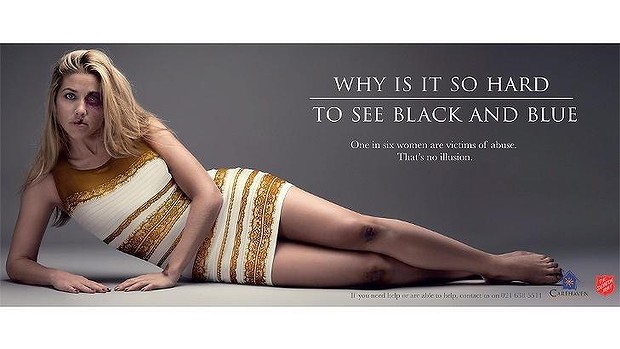 We must keep talking about this issue until we see our statistics change. Keeping silent only helps serve the perpetrators.
We saw signs of progress for women at work 
23. Apple and Facebook cover costs for women to freeze eggs
In October, Facebook and Apple announced they will cover costs for employees to freeze their eggs, even if they don't have health problems. This giant leap forward means that female employees will have much more flexibility when it comes to planning for family in a way that works for their career. The practice is reportedly beginning to spread as a hook to attract smart female employees.
24. Women dominate the Queensland State Government Cabinet
Love them or loathe them, the Labor Party's stacking their newly elected cabinet with female faces was a win for women.
25. AFL gets it's first female coach
Peta Searle was appointed as development coach at St Kilda football club in June. As a five-time premiership-winning coach of Darebin in the VWFL and former assistant coach at Port Melbourne, there's no question the position was awarded on merit.
26. US Businesses with female CEOs are shown to do better than those run by men 
Last month on the ABC news, Alan Kohler shared a graph at the conclusion of his finance report. The graph looked at the S&P 500 (a diverse index that includes 500 American companies that represent over 70% of the total market capitalization of the U.S. stock market) and compared performance by those run by men against those run by women. As you can see below, the graph shows the businesses run by women outperform those run by men.
And then came the kicker: Alan says "I can't do that graph in Australia because the sample is too small here."
 ______________
Over the years, I've had moments where International Womens Day makes me uncomfortable. 'Is there an international day for men?', 'I don't feel like I've been directly discriminated against.' Perhaps I haven't. But an unconscious bias against women is still deeply imbedded in the Australian psyche… unconscious being the key word here – it's not done on purpose or with ill intent; it's done without any realisation its happening.
I'm choosing to finish on this note with the hope of demonstrating irrefutably that we still have distance to travel. Women in Australia earn an average of 18.6% less than men. Our representation on boards and at top levels of management is actually reported to be going backwards. The last year has seen some of the most progressive and fantastic accomplishments for women ever… but we're not there yet.
So what can you do? Celebrate the wins, let the men-folk hang out the washing (even if they're doing it wrong), give your sons and daughters every opportunity to embrace equality, keep talking about things that aren't right and lean in. Riiiiight in. I'll see you there. x