Hearing some internet buzz about Black Friday? Feeling a bit confuzzled about all the excitement? Want to know what's in it for you?
I've got you covered sublime-seekers!
For many Australians, the term 'Black Friday' makes us think about the awful awful Victorian bushfires of a few years back. This is confusing, because that was an awful event, and the Black Friday happening this week is kinda the messiah of shopping events.
Black Friday is the day immediately following Thanksgiving (Thursday) in the USA. It is thought of by our American friends as the 'start' of the Christmas shopping season (though I'm sure they've had Christmas stuff in store since August just like us) and it is America's biggest retail day of the year.
And as a result, EVERYONE has a sale. 
And as a result, the shopping is crazy, epic, knife-you-if-you-push-in-this-line intense.
And as a result, retail enthusiasts like myself ('shopaholic' had too many negative connotations so I'm running with 'retail enthusiast' for a lil' while) treat it like the holy grail of shopportunities. I'm talking bucket-list status. It is the kind of shopping scenario so epic that you might schedule your wedding at a time which might allow you to honeymoon in the America's and shop Black Friday. You know, just as an example, not that anyone would ever do that. *awkward avoiding of eye contact*
So what sort of deals are we talking? 
These sort of deals:
The major chains (J.Crew, Banana Republic, Gap etc) tend to do 40 or 50% off EVERYTHING.
Department stores seem to do some crazy crazy individual deals, like a particular tv 70% off for the first 100 customers and that sort of thing. Department stores seem to be where the craziness happens.
Sephora might pick 20 items and do insane deals on them for the day.
The slightly more expensive stores like Tory Burch, Kate Spade did spend and save deals last year – ie. spend $200 get 20% off, $350 get 25% off, $500 gets 30% off.
Luxury brands of the Chanel, Tiffany, Louis Vuitton persuasion don't participate, far to important and fabulous for deals.
How do we get amongst it? 
Interestingly (because it's obviously not a public holiday for us) some stores here are starting to offer Black Friday deals here. Apple has led the charge, making it the ONE day of the year they offer deals on their core line of sales.
Most American stores open their doors at midnight Thursday and extend their deals over the whole weekend.
Signing up to the mailing lists of the stores you might want to shop is one of the best ways to get the details first. Cause as you'd expect, lots of the stores also share their Black Friday deals online.
The online market is so major it's actually sparked a whole other retail event…. called Cyber Monday. 
Deals, deals deals online, and most of them for one day only. If you've got a favourite American online store – expect them to do a deal on Cyber Monday.
But what about the shipping? 
This bit can be a little bit tricky, lots of stores we want to shop at will still only ship to the USA. Enter freight forwarders! My freight forwarder of choice is the exceptional Parcel it On – something I've raved about previously here.
But there's a new player in the market… and it's a familiar face!
Australia Post has launched a US freight forwarding service!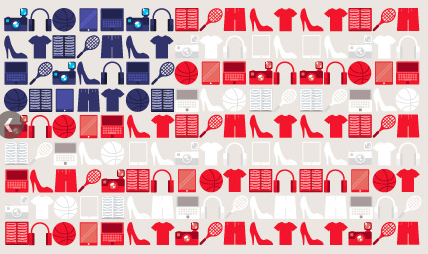 It's called Shopmate: You sign up, receive a mailing address and can then shop US-stylz! The forwarding cost home is $24.95 + $5.95 per 500 grams. (Nearly always…  but for something gigantic but light, there may be additional charges). Insurance is available for purchase and once delivered to your US shipping address, you can expect them at your Australian address within 5-8 days. Beautiful shopping magic!

One opportunity for improvement: at the moment Shopmate does not offer parcel consolidation. So if you're buying a few things, it could be more economical to go through another provider like Parcel it On. (This is not sponsored! I just love them!)
This means: the Black Friday shopportunities are better than ever! 
Some of my picks:
That's plenty enough for today… the deals are waiting!!  Happy shopping, sublime seekers!
Have you shopped Black Friday in the flesh? What US deals would you love to take advantage of this weekend? Tell us below, lovely things! x