On this day, one year ago today, JS and I were married. I've now been alive for 10,799 days, and our wedding day is my favourite of all those days.
JS and I met at a beach-themed graduation party in November of 2005 (gosh that's a long time ago) and nearly three months later to the day, I knew that he was the man I wanted to marry. I did not know that it would be nearly eight years before that day would arrive… but my mind never changed. It couldn't. If there is such a thing as 'the one' for any person, he is mine, and that was all there ever was to it.
JS is not the husband that my teenage self would have dreamed up for me. JS is not romantic. He is not great at surprises, or at reading my mind. He is not particularly spontaneous (sober), he doesn't read me poetry, or own a wardrobe full of fancy suits. He doesn't give big monologues on how much he loves me or how special I am. He doesn't watch me sleep nor does he delight in brushing my hair. He finds the idea of picnics quite torturous. It's fair to say teenage me had different ideas about what 'the one' would be like.
Teenage me had no idea what adult me would need.
Yet somehow, the universe did, and delivered it to me in the package of JS. JS can cook. (My cooking skills are significant enough to warrant a mention in JS's wedding vows; "Andrea's not a very good cook"). JS is super resilient and mentally healthy. JS is everything healthy actually; a crazy, mad, drank-all-the-coolaid crossfitter, JS is super fit and healthy enough for two people… something I benefit from regularly.
JS is smart! He is smart in all the ways I am not. JS has spatial reasoning skills and can build things. As a wedding present for me, JS turned this…

Into this:

And maybe more remarkably…. JS doesn't judge me or blame me or guilt me as more and more things appear in that room. He even bought some extra shoe racks recently!
JS makes me laugh. Sometimes intentionally, sometimes by accident, but mostly because he's hilarious. JS can be the life of a party – with a few <insert any drink here>'s he will talk to anyone and everyone and always has a great story to tell. He gets this from his dad.
JS's festive nature has brought many unexpected adventures into our lives. One time after a few too many celebratory beverages, he flooded an apartment after falling asleep in the shower with his bum over the drain! It was a bit of a debacle at the time, but I helped coordinate some people to fix it while he nursed his hangover (I believe, via me, the universe has also delivered to JS what he maybe didn't know he needed) and it's gone down one of the 'classic' JS stories.
Another classic was one Christmas night when JS and I had gone to a party down the street from my parent's house. I'd come home early, JS kicked on. There was another party going on right next door to my parents house which had resulted in several noise complaints to the police at 2, 3, 4, 5am. On Boxing Day, we discovered that the party JS and I had attended had wrapped up at around 3am, but JS wasn't done partying, so invited himself in to our neighbours noisy party and -without knowing anyone there prior to arriving – was instrumental in keeping it going while my Dad was calling the police to complain about it. Luckily enough, they both found this very funny the next day.
At the very beautiful wedding we attended in Adelaide last month, JS only knew the bride, groom and me. JS was wearing an apron (he'd been chosen to carve the roast for our table) and after drinking the very excellent wine of Coriole for six hours, he spent the last hour trying to convince me it would be 'sooooooo funny' if he took his pants off. Needless to say, I spent that hour very firmly denying it would be 'soooooo funny'. What actually was so funny was this picture that emerged after the event, capturing the mood pretty perfectly:
Life with JS is never boring. Sometimes I forget about all the excellent things JS does and not-boring starts crossing the line toward being very-frustrating and I get annoyed… but JS knows all of my unlock codes. He knows if he shows me a video of a cute dog, no matter what my mood or why I'm upset, it will draw me in and melt away all the other stuff. Sometimes if I'm having a little tantrum he goads me into stomping around the house, which I inevitably do, then he laughs at me, and so I laugh, and then we are both laughing and noone is angry or frustrated.
This year, in a year of much change, which at times required much braveness, the best thing about JS has been that he has really believed in me. And his believing in me has helped me believe in me. Which… short of a wall of shoes… is kinda the best gift he could have given me.
And all these reasons are the reasons why I said yes, on the evening of February 11, 2013 when JS said he wanted to take me somewhere… then proceeded to lead me in circles around New York City during a snow storm (a few dirty martini's doesn't help one's sense of direction)… before all of a sudden spinning around and saying "will you marry me?".
Yes. Yes for the seven years prior, and yes for all the years after.
And so we were married in the most excellent of days. Some pics!
(These pics are all taken by the truly lovely Andrea of Andrea Thompson Photography, who is SO wonderful in lots of extra ways you can't even tell here! Truly a Sublime Find!)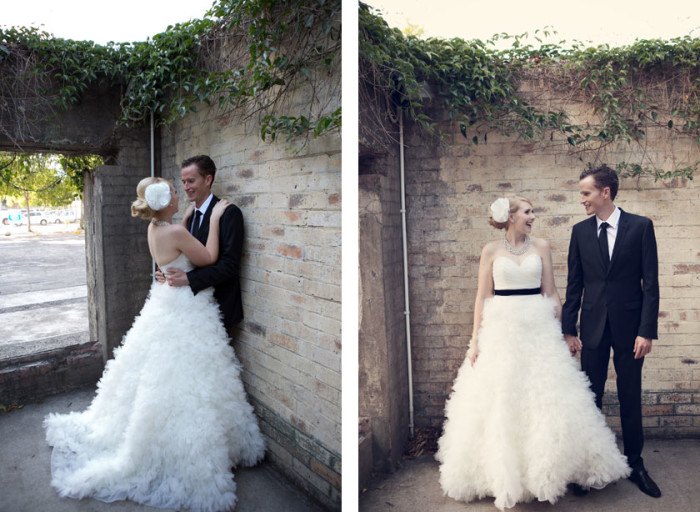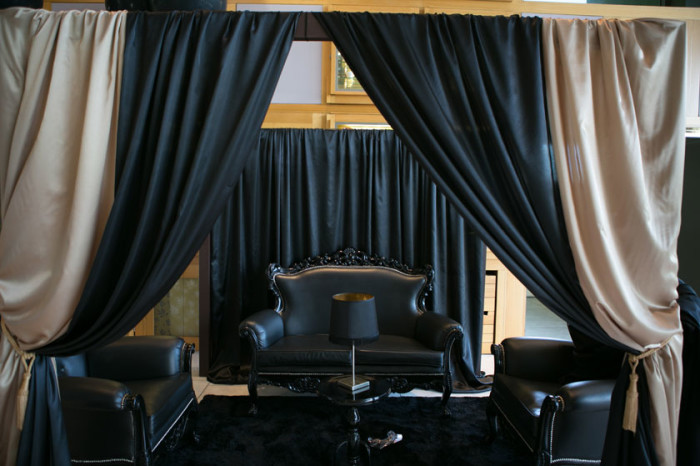 And that is the story of the excellent husband I found at a beach-themed graduation party!
Thanks for indulging me in this very personal post today, sublime-seekers! It'd be wonderful to hear about the sublime finds of a human kind that you love, too! Tell us about yours in the comments below! x