If you've recently gone shopping for summer sandals and left questioning everything you thought to be fashionable – you're not alone. The Spring/Summer 14/15 collection of shoes is the most hideous I've ever seen. As a shopaholic, shoeaholic and passionate retail patron, this is not something I say lightly.
Or see lightly. Trawling through the regular, mainstream sites looking for summer sandals was an emotional journey. Here's the pictorial breakdown:
I wondered whether to ignore the trends and hope they go away. I wondered if it were better left in the 'if you can't say something nice…' category. But they're everywhere. And even though summer's top sandal trends are far from easy on the eyes, what they lack in aesthetics, they make up for in comfort.
And lord knows our lady-feet deserve a little comfort.
So I'm tackling this one head-on and bringing you simultaneously the most ugly and comfortable summer shoes you'll ever see and a few tips to avert attention away from your feet style them.
The Birkenstock
This German sandal came from the 1960's and has been a favourite of flower children. It's come in and out of popularity since then, and is currently in. Apparently.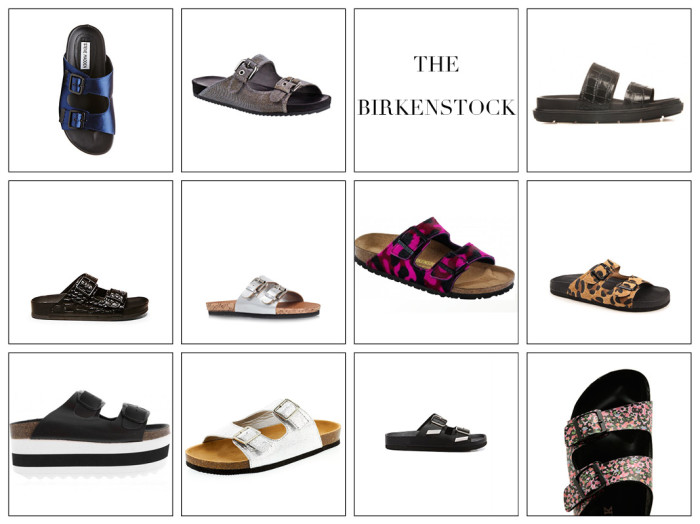 Left to right: 1. Steve Madden 2. Stuart Weitzman, 3. Jo Mercer, 4. Steve Madden, 5. Kurt Geiger, 6. Birkenstock, 7. Rubi Shoes, 8. Tony Bianco, 9. Target, 10. Witchery 11. Lipstick
Styling tips:
Match with a floaty skirt, some comfy printed pants, or distressed denim. The rest of you will want to be as comfortable as your feet. If you can afford it, invest in the real deal Birkenstocks. They are the only ones that will be forgivable in seasons to come (although possibly not in camo-pink). Avoid a platform sole… like the plague.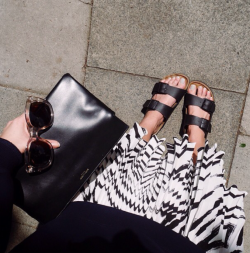 The Slide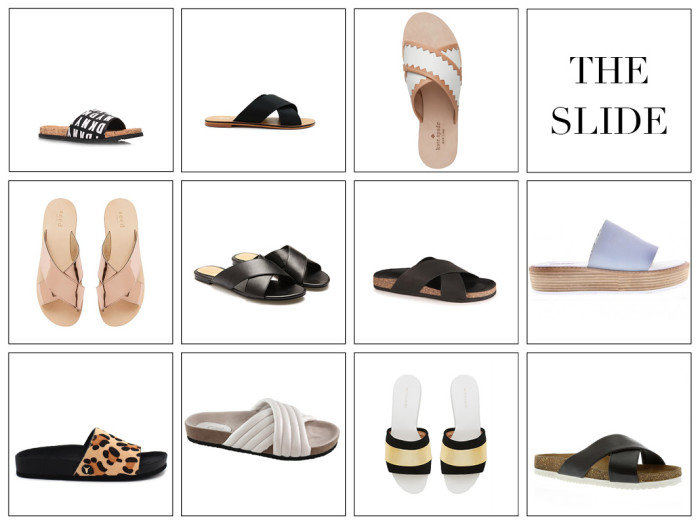 Left to right: 1. DKNY via Kurt Geiger, 2. Betts 3. Kate Spade, 4. Seed Heritage, 5. Portmans 6. Rubi Shoes 7. Tony Bianco 8. Zu 9. Wittner 10. Witchery, 11. Instep via Williams
Styling Tips:
Pair with a floaty kaftan or cover-up for a poolside look. For day, chose an above-the-knee skirt or dress. Pick a metallic pair to take you into the evening.  Avoid slides with platforms!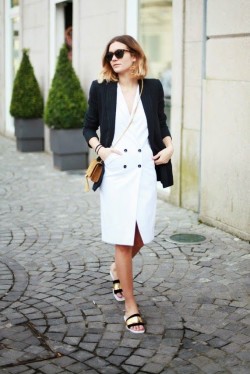 The Orthopaedic Shoe
Look familiar? You've seen this one before at your grandmas.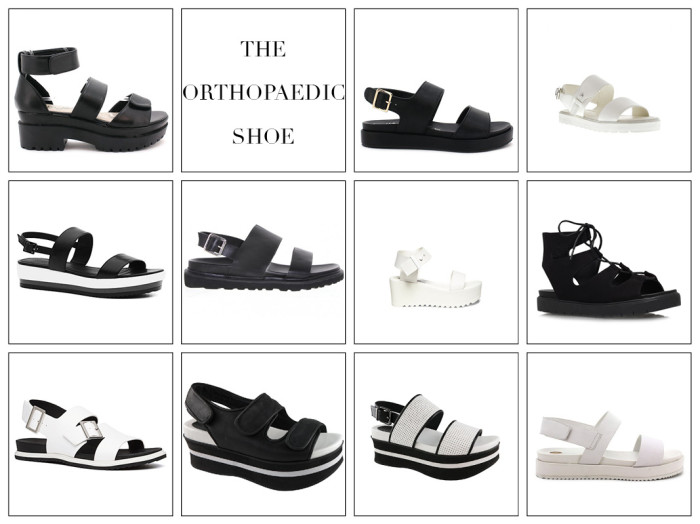 Left to right: 1. Betts 2. Betts 3. Corelli via Wililams 4. Witchery 5. Tony Bianco 6. Steve Madden 7. Kurt Geiger 8. Witchery 9. Wittner 10. Wittner 11. Zu Shoes
Styling tips: None. I just. No. Cannot.
Talk with your Gran. (And in case your Gran doesn't mention it, avoid velcro. And the platform!)
The kids sandal, circa 1990
These ones are familiar too, if you grew up in the 1990's.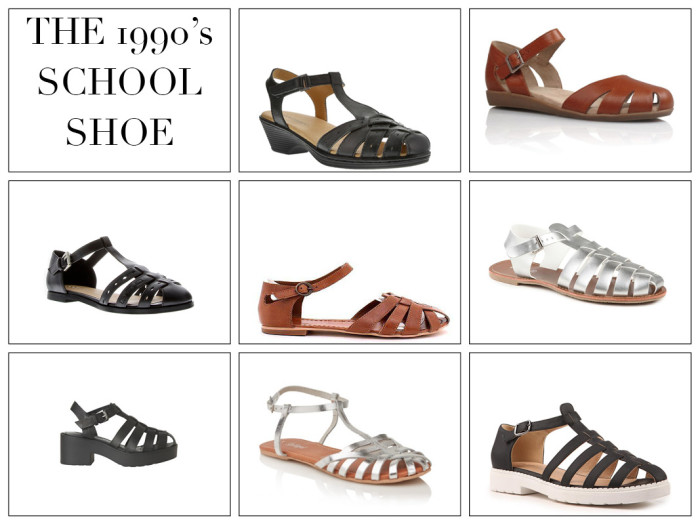 Left to right: 1. Colorado 2. Zensu 3. Corelli 4. Betts 5. Rubi Shoes 6. Windsor Smith 7. Sportsgirl 8. Rubi Shoes
Styling tips: try it out with a floaty midi skirt and a button up blouse, or go for a mod-con 60's look and pair them with a shift dress. Avoid the platform!
The Espadrille
Now look, truth be told I don't mind the ol' espadrille, in fact I think it's going to be my ugly-comfy summer shoe of choice.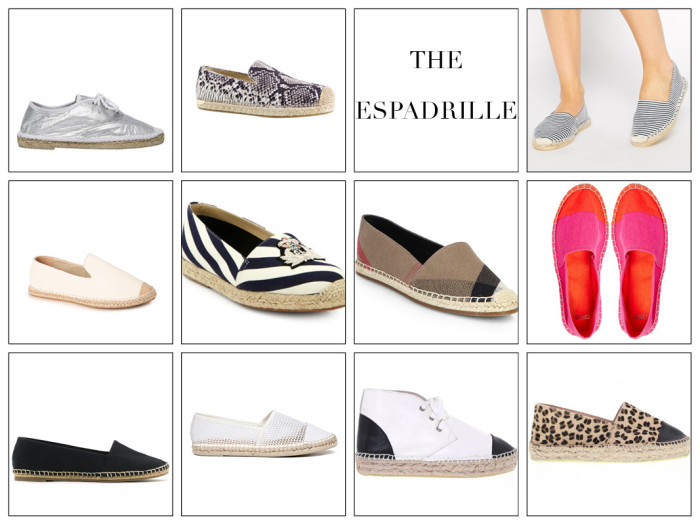 Left to right: 1. Seed Heritage 2. Stuart Weitzman 3. Asos 4. Rubi Shoes 5. Christian Louboutin via Saks 6. Burberry via Saks 7. Asos 8. Zu 9. Witchery 10. Tony Bianco 11. Tony Bianco  
Styling tips:
1. Absolutely, do not buy a pair of espadrille boots, under any circumstances. Death before espadrille boot.
2. Wear with a pair of slim leg pants or jeans, rolled up at the ankles + a loose fitting tee, button up or knit. Also cute with shorts and a just-returned-from-Greece style tan.
3. If possible, make your espadrilles Chanel.
That's a wrap, sublime seekers!
In a nutshell, navigate the ugly-comfy shoes by doing this: choose finer, less chunky designs for seasonal longevity. Choose metallics for a chic look that goes from day til night. Roll long pants up a little with summer shoes. Choose loose tops for relaxed warm weather vibes. Steer clear of the orthopaedic shoes and espadrille boots at all costs.
If your feet need a little summer holiday, this is the season to embrace the ugly-comfy trend and do it!
Will you don the ugly-comfy shoe this summer or not? Do you disagree entirely and think they're all fabulously desirable? Is it everything your feet have been waiting for? Tell us your thoughts below!