Three and a bit months into blogging life, I was happily tapping away on my free wordpress.com site without a clue what I was up to and knowing very few people who 'blog'… when a lovely friend sent me a link to the Secret Bloggers Business e-course! (I'm 80% sure her sending me the link was her being kind and helpful, not trying to give me a hint!).
I signed up without too much thought as to what I was entering into.
And to my enormous surprise was as if I'd been standing alone in an empty street, when all of a sudden a hidden doorway opened up and I was yanked into a busy, bustling, happening party… aka the secret world of bloggers! I had been alone (and perfectly fine with it) and then I was not (it's monumentally better), and suspect I never will be again.
What's Secret Bloggers Business? 
So glad you asked!

Kate McKibbin is the founder and editor of Drop Dead Gorgeous Daily; a fabulous blog of the fashion, beauty and lifestyle variety that just celebrated having ONE MILLION page views this month! (Sidebar #1: Kate is running two *free* webinars this Thursday to tell you how she did it! More here!) The site is also six-figure income generating per annum and the employer of five lovely ladies!
Kate, the super-smart business lady that she is, decided to share her wisdom and learning from how she's taken the blog from nothing and nowhere to visited by more than 200,000 people Every. Single. Month. And so Secret Bloggers Business was born! (Sidebar #2: I love this, the entrepreneurial mind has the ability to see how nothing can become something, and go out and make it happen. I find this BEYOND exciting! Go Kate! Go entrepreneurs everywhere!! Keep your eye on the prize, even if other people can't see it yet!)
The other thing you should know is that I think so much of SBB that I have become an affiliate for it. It's not something I do lightly, I take the business of bringing you truly sublime finds, seriously! No point doing it unless they are AWESOME.
The course has evolved in amazing ways since I joined (including bringing on the hilarious and fabulous Carly Jacobs, editor of Smaggle.com) and the e-course is now called 'bootcamp'!
The Bootcamp low down! 
SBB Bootcamp is broken down into six modules (with some extras where Kate shares what she learnt in each year she's been blogging) designed to be consumed over 6-7 weeks. The course unfolds like this: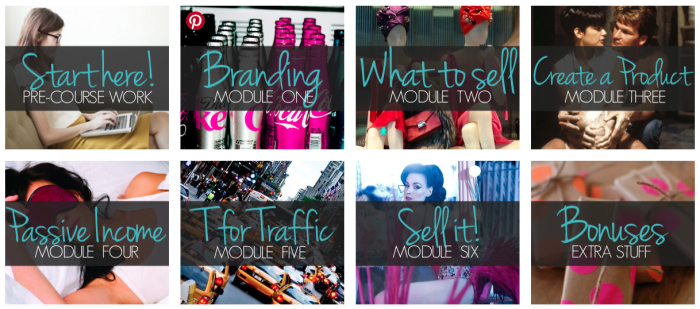 The modules are easy-to-digest, all contain activities and have an interactive/comments section at the bottom to share your thoughts with other SBB-ers! No matter whether you're just starting out like I was when I signed up, or are 'going pro', you'll find some gems in each module.
And this: Kate spills the beans on how to actually make money blogging
One of the things that sets Kate's course apart from others is how open she is about the traffic, pricing and the money making that happens at Drop Dead Gorgeous Daily. The Aussie blogging world is undoubtedly friendly, but it's a little cagey when it comes to talking turkey, which makes Kate's course not just refreshing, but super useful!
When I went through bootcamp, each of the modules was opened up week by week (leaving us hanging for a Tuesday morning when the new content went live!). We got to talking about media kits and the SBB-ers pretty much exploded with awe when Kate shared a ready-to-roll media kit template with us! Many remarked that the kit alone was worth the SBB $. (Sidebar #3: the same thing happened at the Problogger conference this year when Kate shared a slide on pricing, an 'ohhhh!' broke out from the audience and 500 smart phones went in the air to take a pic!)
One of my biggest ah-ha moments happened before the course even started, in the pre work! Kate has a sheet that identifies five stages of bloggers with a whole lot of behaviours that help you identify what stage you're at! It was really helpful to realise at the very beginning how far I had to go, what other bloggers were doing and what sorta things I should start doing (like moving to wordpress.org… tick! Backing up my blog.. tick! Getting my google analytics on… tick!) !
Plus you get access to the Secret Bloggers' Business facebook group! 
This is *nearly* my favourite bit – an active community of like-minded people, experiencing the same wins and frustrations that you are. I've seen people 'break' their sites and have SBB members help fix it, recommendations for awesome events, sharing wins and not-so-wins (it's not failing if you learn!), encouraging and supporting each other, spurring each other on and celebrating milestones together. The SBB-ers are a bloody awesome bunch and I'm SO glad I got whisked into the party from the empty street I started out on.
This sounds pretty freakin' awesome
It is! And being part of it is time-critical!!
Kate is about to run the SBB Bootcamp 'live' again and
enrolments close midnight September 22!!
It's unlikely there'll be another intake this year so I've sped up this edition of Sublime Finds to spill the beans on how awesome this is and give you the chance to get in before you miss out! The course is $397 (or 2 payments of $219) and you can sign up here!
Beg, borrow or steal sublime-seekers; if you're of the blogging variety, you won't regret this investment. I'd have paid more than double to know what I learnt from SBB and I dare say at some stage in the future, supply and demand may see the price go there!
Are you a blogger? How have you learnt about blogging STUFF? What's been your biggest ah-ha moment as you've 'learnt the  ropes'?