How's that for a spicy little title!? Luring you in with the saucy and suggestive is exactly the game of Frank Body; the all-natural coffee body scrub taking the world by storm!
It's been a journey of tongue-in-cheek marketing and a social media festival that's catapulted Frank into success since it's beginning in mid-2013. Hashtag #thefrankeffect has (at the time of writing this post) been used on more than 47,000 pics, the vast majority of which are 'the frank selfie' taken in shower, covered in Frank. Like this:
In order of appearance: @samcmaurice, @katherineconnolly_, @mcbrideee, @donyave, @la_caramellina, @spokenwithstyle
Frank doesn't want you to think he's sleazy though. In his own words he's "just a humble coffee scrub that loves booty, making babes' skin smooth and showers." 
And he's all natural
Frank looks like coffee and smells like coffee with a bit of something (orange, coconut or cacao). Ground coffee works as the exfoliant to reduce dry sin and target eczema and psoriasis.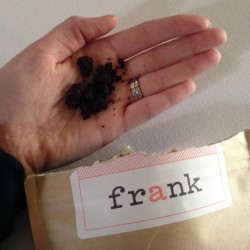 Depending on the Frank you pick (there's three, I tried to the original) the scrub is also packed with natural oil to moisturise, hydrate and heal. Better yet, Frank smells super delicious!
How do I use it?
Frank's a dry scrub, he wants you to get naked, get in the shower, get dirty all over (with the scrub), get rough ( his words not mine… he wants you to scrub, gently or vigerously depending on your personal preferences) and leave him on for 5-10mins (this is when you take your selfie!). At the end, get clean by washing it all down the drain. Do this once or twice a week!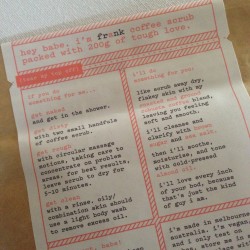 Frank professes to be great for stretch marks, cellulite and well as heeling upset skin. He's also good before a fake-tan, or to get rid of the last bits of tan a week later!
The Frank bag is waterproof, but needs to be kept airtight, so better off on a shelf than in the shower. It's got a shelf life of six months, if you make it that long!
So does it work? 
It certainly does. I'm super impressed with his ability to exfoliate without drying you out. The oils (almond, grapeseed and coconut) leave your skin silky smooth in a totally nourishing way. It's way messy though, not that it bothered me!
Highly recommended for people who don't mind getting a bit dirty in the shower and who have a detachable shower head to wash all the leftovers away!
I want one! 
You can get a bag or two or three from frankbody.com for $14.95 with free shipping in Aus! OR you could win a pack for free by signing up to Sublime Finds! Pop your email in the box on the top right of the screen to stay up to date with alllll the sublime finds AND be in with a chance to win a pack! If you've already subscribed, you're already in the running! The lucky winner will be notified in one week!
Whether you've been on the hunt for a new man in your life or not, I am confident that Frank will make a welcome edition to your shower time!
Have you already been naked with Frank? What did you think?