I'm opening my doors today, sublime seekers, to invite you to take a peek inside my wardrobe… and my most favourite room in our house! I'm going to tell you about how we went from clothing-everywhere-disaster-zone to wardrobe of my dreams! Plus I've got some tips on how to make your wardrobe super awesome, too!
The Man Cave 
My man's man husband, JS, has the need for much tinkering and grease and smells and tools and so we devoted the area under our house to become the man cave. And let it be known… the man cave is pimpin'. Sure it's got a work bench and engines and the regular things you'd expect, but it's also got a couch and a tv and a fully stocked fridge – we joked for a while that JS was planning on moving down there. At least I think we joked… it could still be his plan.
Meanwhile, our modest house was overflowing under the burden of my love for shopping; shoes in baskets, our whole wardrobe plus spare room overflowing with clothes, bags cluttering the kitchen bench and completely unworkable makeup situation in the bathroom. I literally had high heels hanging off our wine rack in the kitchen. It was out of control, peeps.
So JS is pimpin' down in man land and I'm digging through baskets to find that pair of jeans all while dreaming of beautiful lady land solutions, where problems like this don't exist. Like those ones you see on pinterest. And like the one Big made for Carrie in the Sex and the City movie when they were getting married.
And then I thought… hang on, I'm getting married! 
And while I don't think Carrie was on the money saying no to a diamond (diamonds are a girl's best friend after all) I started thinking that maybe that handy husband of mine might have some tools in his man cave to make me the wardrobe of my dreams, too! Our obvious problem was space, our quaint three-bedroom home is practically more deck than house. But we went ahead and made the (arguably selfish) decision to turn our under-partronised, yet over-crowded spare room into a Lady Cave just for me. (And the schnoodle, he can hang in there too).
The Design Phase
So commenced wardrobe design phase, in which I quickly discovered that dream wardrobes are expensive and need more space than our spare room had to give. We were looking at upwards of $5,000 to have fixtures built in, plus I didn't like the idea of not being able to easily see my clothes…. and there was that whole re-sale thing, where someone in the future might want to you know… have a spare room. Plus I had a long-time fantasy about a wall of shoes, and the wardrobes I was looking at had creators who just didn't seem to get it.
The solution that solved all our problems (money, space, visibility , remove-ability and the wall of shoes fantasy) was the Ikea Stolmen storage system. Stolmen offers a range of racks, drawers, hooks, shelves and storage options; completely customisable into the combination of your choice dreams!
I executive-decided that we'd do three black walls (got a few funny looks on that one, but you can see the logic once Stolmen is in) with a hot pink feature wall!
JS got cracking and three weeks, five Ikea trips, six bunnings trips and an uncountable number of home-handyman curse words later, my brand new husband was proving to be the most sublime find ever! He turned this…
into this…!
Oh my goodness!!
Right!?? On the left as you enter, the wall-of-shoes-fantasy became a wall-of-shoes reality:
You'll also see in the pic above we utilised the space around the window by putting in double sets of drawers, perfect for all those things you don't necessarily want on display (sexy lingerie and track pants). On the opposite wall, hanging space galore and the all important folding space for knits!
There are some really cool features to Stolmen – the mirror spins! In the back, more super efficient storage!
Shelves sit above the hanging space and play home to accessories, including the treasured handbag stash:
Hooks hang about the place perfect for preparing an outfit for tomorrow, or displaying items I want to wear more!
And of course, we couldn't do the Lady Cave without finding a solution for beautifying. Against that hot pink wall, a vanity (Ikea's MALM dressing table) and hollywood-style lit up mirror (this is a JS custom design)! No more shadows on the face during makeup time!!
But where's the makeup? Inside that drawer the answer to all my makeup dreams! At less than $10 total, some draw inserts to keep everything in its place!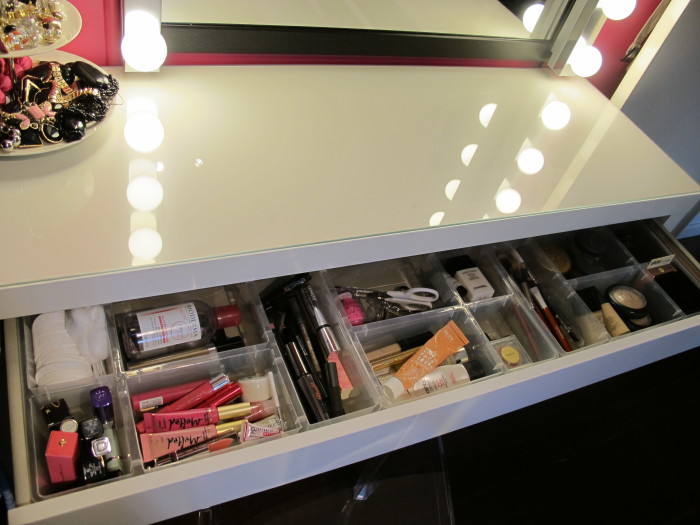 For trinkets and treasures that feel ladylike and lovely, a little high tea stand: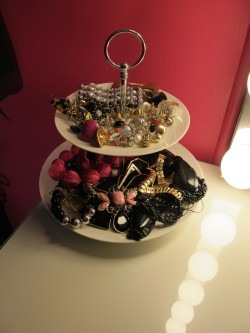 Last but not least, some seating solutions! For the vanity, an Igloo Chair from Funk You (approx $135, delivered!) and this genius sleepover ottoman from Freedom in 'lipstick' ($399)… yes that's right… sleepover… it folds out into a bed! Who said we didn't have a spare room!?
And so completes the peek into my wardrobe and my favourite part of our home! Gold star husbanding from JS to pull it all together. I feel like I have a whole brand-new relationship with everything housed in this room – it's so accessible, and so lovely to be around, it is a total source of happiness!
You can get this feel-good feeling too! 
I realise not everyone is willing or able to turn their spare room into a wardrobe for one, but there are definitely some easy things you can do at home to ensure your wardrobe is maximally functional!
1. Start with a clean out. To clean out properly, take every single item out of your closet, then only put it back if you've worn in in the last 18 months (some people say 12 months, but 12 seems a little cut-throat to me).
2. Invest in some samesy hangers. It makes a world of difference! Having your hangers play nicely together is key to avoiding wardrobe frustration. I stocked up at K-mart, who do 12 plastic hangers for $2.50! Winning.
3. Create clothing families! Jeans with jeans, skirts with skirts, dresses with dresses. If you reject the option you were grabbing for, make sure the other options are right near by.
4. Tops on top, bottoms on bottom. If you're lucky enough to have hanging that stacks on top of each other, be sure to put your tops up top and your bottoms down below – it makes it a bunch easier for outfit visualising!
5. Put your favourite items in view. Not only will it make you feel lovely when you see them, it'll encourage you to wear them more often! Your most treasured pieces shouldn't be hidden, they should be celebrated! (Unless they're realllly good, in which case they should live in their house and be dust free.)
6. Colour code! I can't explain the satisfaction in colour coding your wardrobe! Colour code within your clothes families though, this tip builds on the work you did in tip three. I'd colour coded my tops before moving into the Lady Cave, and it made world of difference; both in time to find items and organised satisfaction looking at a rainbow of items. It's also really interesting to see what colours you wear a lot. You'll see in my wardrobe, a festival of little black dresses. You'll also note a total absence of green! No green, anywhere. It doesn't mean I should rush out and buy green; rather it helps me know when I'm looking at a piece in store that's going to work with the colours I wear all the time.
7. Store your out of season stuff. And your out of size stuff, I know I'm not the only one with a full range of sizes in my wardrobe! Pack it up in airtight containers to keep everything nice and create some more space to work with.
8. Fold your knits! If you're lacking in shelves, don't hang those knits, you know they're only going to end up stretched! If drawer and shelf space is hard to come by, consider a hanging shelf unit. Ikea has one you can hang in your existing closet for $3.99. Insane. Check it out here.
9. Find a great accessories solution. I chose a high tea stand to display the bits of jewellery I'm regularly taking on and off, but there's HEAPS of options out there (don't be afraid to improvise like I did in the kitchen area… storage is storage people!).
That's it! I hope you've enjoyed having a peek inside my soul wardrobe today, sublime seekers! Whether your closet is big or small, take the time to get it working for you! It'll save you time and give you warm fuzzies, I promise!