Short, sweet and extremely sublime today, lovely-things! A review of the Too Faced Melted Liquified Longwear Lipstick: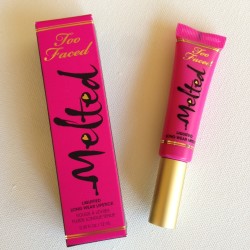 I stumbled across this product entirely by happy coincidence. I was in Mecca hunting for something or other, got to the counter, looked up and in front of me was this gorgeous girl with spectacularly pink lips! It went down a little like this:
AS: Oh my goodness what are you wearing on your lips?
Pink Lips: Too Faced Melted Lipstick in Fuchsia!
AS: When did you last apply it? (it was 3:30pm)
Pink Lips: Not since 10am when I started work!
AS: Hot damn! Show me the product!
Pink Lips: (shows me the product)
AS: I must have it!
And now I too have pretty pink lips, with a lipstick that is both easy to apply and DOES NOT BUDGE (except with a little Bioderma Crealine at the end of the day).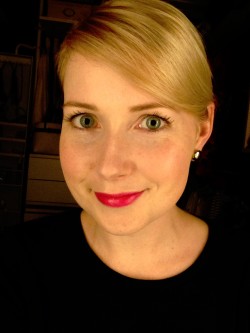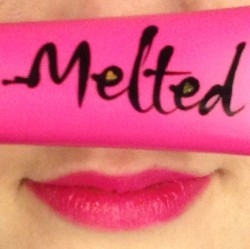 First wear I took my hot pink lips out for dinner and drinks, at the end of the night it was in tact with NO reapplication! How is that even possible!? It was almost disturbing. It goes on with a little felt tip applicator! The juju squeezes out the end and is very easy to apply in an even way. No lip liner needed! Gloss would work over the top if you wanted something a little less matte.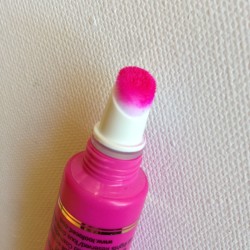 It's available in six slamming colours: Coral, Fuchsia, Nude. Peony, Ruby and Violet., get yours from Mecca Maxima or Mecca Cosmetica for $31.95.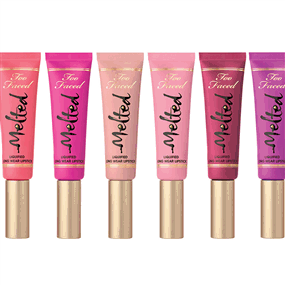 And that's our Too Faced Melted Lipstick Review! Gold star, Sublime Finds loves a bold lip!
What's your go to product for budge proof, smudge proof long lasting colour?